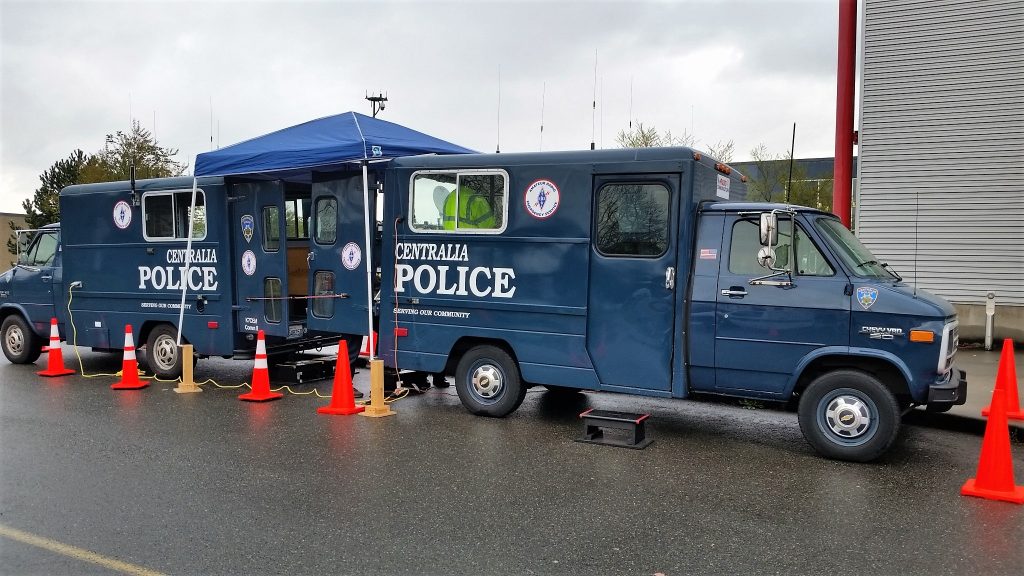 Our annual maintenance trip to the Centralia City Shop is complete. There were a few more repairs found than we had on our list but, as usual Matt and Terry at the shop did an amazing job. Now it is time for our annual trip to the Seattle Communications Academy where we will once again display our two comm vans during Saturday's "show and tell".
Leaving beautiful, historic Centralia at 5:30am to arrive at the South Seattle Community College no later than 7:30am requires a large infusion of coffee to get our older and more mature volunteers moving at that time of day but we'll manage somehow. This will be our third year as part of the response vehicle display. Each year we've enjoyed meeting people from all over the Pacific Northwest. While there are always larger, more expensive vehicles on display, many seem to enjoy seeing what can be done on a smaller budget.
Our vans were found through military surplus (Defense Reutilization and Marketing Office) and are owned, maintained, insured, licensed and fueled by the Centralia Police Department but permanently assigned to the Amateur Radio Emergency Service team. Approximately 500 volunteer hours went into each van. Equipment estimates run around $6,500 per van. Since we are part of the Western Washington Section Emergency Communications Group, a 501(c)3 organization, we were able to seek funding from various groups such as TwinStar Credit Union and the Chehalis Indian Tribe to cover the entire cost of outfitting each van.
Basic communications equipment includes a Vhf radio and CB in the driver's cab. In the communications bay there are three Vhf/Uhf dual band radios, a digital station, an Icom IC-7300 HF radio, and a fire/law radio. There are additional scanners, amateur radio HT's and fire/law HT's as well.
These vans have suited our team very well. They are small enough for all team members to feel comfortable driving them but large enough and versatile enough to go anywhere. They can run off battery or generator in addition to the normal shore power and have a great little heater which is always a plus in the Pacific Northwest. While the team can use a much larger command & control vehicle also owned by the police department, we much prefer our smaller comm vans. Comm IV, a small towable communications trailer built as a project by team members, is dedicated to shelter communications. Between the four communications vehicles, we can cover almost any requirement up to and including using the vans as a mobile Emergency Operations Center.
If you are going to the Seattle Communications Academy this year, please stop by our vans and say hello. We'll give you the grand tour and may even have coffee available.