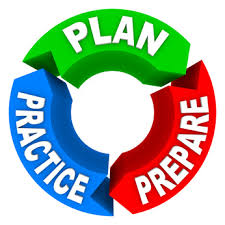 The arrival of the Coronavirus in the United States on January 21, 2020 brought about many changes in the way everyone does business.  With Washington State now the "hotbed" of activity, our ARES team has been busy just trying to keep up with daily mandates.
Initially, our team tried to maintain its rigorous training schedule but after speaking with our served agencies, Centralia Police Department and Riverside Fire Authority, it has become obvious we need to stop the most if not all social interaction.  For the last week, the team has been working towards a "no personal contact, in the field communications exercise" where each of us would use our personal vehicles with everything coordinated through our two communication vans.  Even this,  however, could put our people at risk and would require a complete sterilization wipe down of both communication vans before and after each use.  In addition, it brings our team out into an area full of unknown dangers as confirmed COVID-19 cases have now found our own community in the last few days.  Finally, most of our team members fall in the "advanced age" category where risk factors are much higher.
Our ARES team has now cancelled all outside training activities.  We have also stopped using our communication vans for our CW code classes.  Our scheduled coffee meetings have been halted and our monthly brunch session cancelled.  So where do we go from here?
Our team members have been asked to "shelter in place" – staying home when possible and reducing our interaction with the outside world as much as possible.  Amateur Radio operators, however, do have the unique capability of maintaining our communications system when almost everything around us begins to fail.  It is time to show the world what we can do from home!  Almost every ham can reach out and say hello on one or more amateur radio nets at least weekly if not daily.  We are blessed with a fantastic repeater in our county and two smaller repeaters in our own ARES response area.  There is simply no good reason why we cannot chat with each other whenever we like.  Since the internet is up and should continue, using Winlink as a training tool allows us to keep our skills sharp.  For those of us who have HF capability, there is something there every day and the weekends are full of activities.  In our own team, many have discovered the fun and excitement of DMR radios.  What a great time to learn all there is to know about that system.  While not everyone has HF capability on our CW team, we will figure out a way to keep going.  We won't let those dits and dahs get away from us.  We have spent too much time learning the code!
We are going through a difficult time with many dangers.  Still, hams are luckier than most just because we train for emergencies and know how to use our communication skills to keep in touch.  Now is the time to try a new mode, or get on the air, or just chat with a friend on a local net.  We don't yet know where the Coronavirus will take us but as we work through this situation, let's all be "radio active".
Stay well, stay safe and we will see you on the air.