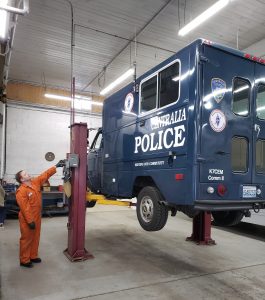 We are preparing for our annual trip to the Seattle Communications Academy in April.  For the third year in a row, we will have our two communications vans, Comm II and Comm III, on display.  The Comm Academy is a two day event.  On Saturday, several ARES teams and cities display their response and/or communications vehicles.  Between classes, those attending the training can step outside and look over the eight or ten vehicles on display.  Some are very large response vehicles costing many thousands of dollars and some are very expensive government comm vehicles probably costing millions. (when asked, they roll their eyes and say if they told us the total costs, they would have to kill us).  Among these vehicles there are two or three smaller ARES team vehicles.  Centralia is the only team displaying two communications vehicles.
Before we go, however, it is time for our annual checkups.  The Centralia City Shop maintains our comm vans.  They are amazingly helpful.  At the slightest hiccup, they roll up the shop doors, roll up their sleeves, and work until our babies are fully functional once again.  Today, it is mostly about an oil change and a few minor repairs which include a burned out taillight.  I don't know what we would do without these guys.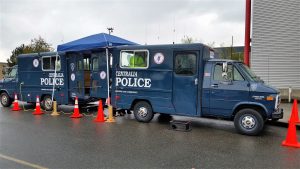 In about a month, we'll be off to the comm academy.  We've really enjoyed displaying our vans at this event.  Attendees seem interested in the conversion process from two former military flight line maintenance vehicles into these amazingly well equipped emergency communications vans.  They ask a thousand questions, take lots of photos and often return throughout the day to ask more questions.  They seem to like the "rags to riches" story of creating a fully functional communications vehicle with volunteer help and a few thousand dollars worth of equipment.  We're proud of our vans and always happy to show them off.
If you are attending this year's Seattle Communications Academy, come visit our van display and say "hello".  We're always glad to have visitors and love to tell how these vehicles evolved.