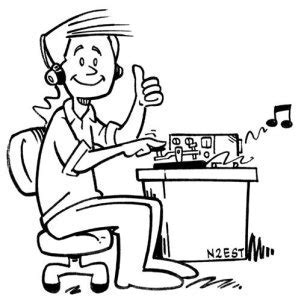 At last evening's first Morse Code class, the question was asked: since the requirement to know CW in order to get your amateur radio license was cancelled in February 2007, why are you here?  Many said they had always wanted to learn code but just hadn't had the opportunity or hadn't taken the time to learn it.  For several years in a row at our annual Field Day, we all have watched Code Master Merle Olmsted rack up the numbers and several of the ARES team members said watching Merle was the inspiration to learn CW.  Whatever the reason, eleven Centralia ARES team members sat down last evening ready to begin an eight week Morse Code course.
They come from all levels of amateur radio.  The youngest, Andrew, is 12 years old and attending with his dad.  The oldest is… well, much older than Andrew but the desire to learn is still there.  A few have tried CW before and are trying to learn it again, hoping for better results this time.  The rest fall somewhere in between.
Last night's class included a demonstration of the basic CW keys – straight key, bug and paddles.  We discussed ways to make the learning easier, how to practice, and some of the obstacles they will find along the way. Each session will include a review of the previous week's code, general information about the world of CW, and the next set of letters.  We are using the Gordon West Morse Code learning course.  He makes the learning fun and enjoyable.
Learning the Morse Code is not for sissies.  It takes commitment and dedication and the journey is a personal one, but for those who stick with it and come out the other side, the joy of carrying on a CW conversation with another ham is magical.  So get ready world, we're about to invade the airways with some brand new code operators!