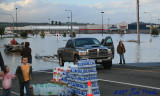 The leadership team has been busy working on an interesting training program for the 1st quarter of 2017.  As part of our ongoing disaster preparedness training, these six sessions covering January – March will deal with "emergency shelter operations".  The largest flood events in our area have all occurred since 1986 (1986, 1990, 1996, 2007, 2009) – all being FEMA declared disasters. Three of these floods cut off Interstate 5, the main north / south route from Canada to Mexico for several days at a time.  More than once, Centralia Emergency Managers have scrambled to find emergency shelters for those displaced by dangerous flood waters.  During those times, shelters were established quickly without much planning and certainly without emergency communications that could provide health & welfare messages going out to concerned family and friends.
We will actually begin ramping up for this training in December as we work to be sure each team member is familiar enough with his or her personal handheld amateur radio.  Team members must demonstrate their ability to (1) turn their HT's on and off, (2) adjust the volume & squelch, (3) change power levels, (4) switch back and fourth from memory mode to programming mode and (5) show that they can program their radios successfully.  At least one of the training exercises scheduled after the first of the year will require them to use their HT's as the primary radio support for communications to the Emergency Operations Center (EOC).
When January arrives, our first training session of the month will be a joint session with the Lewis County ARES team at Centralia's EOC.  Michaelle Fries from the American Red Cross will speak to our group about their shelter operations.  Neither of the previous shelter operations during floods used the Red Cross simply because there was a delay in getting Red Cross mobilized and we couldn't wait.  The second January meeting will be a practical exercise where we will visit two local churches and evaluate their facilities as possible shelters.  The point is to push our own team members to know and identify potential problems when choosing a disaster shelter location.
In February, we conduct training, once again, on our mobile communications systems – our communications van ( Comm II) and our communications trailer (Comm III) to make sure everyone is capable of setting up and using these pieces of equipment.  At our second meeting in February,  we will practice setting up communications at a shelter location.
In March, our classroom training will cover the ARRL Radiogram, often used for shelter health & welfare message traffic as well as the Incident Command System resource request form (ICS 213 RR) which must be used to request everything from cots to toilet paper for a shelter.  During the last meeting in March, we will conduct a disaster shelter exercise using "pretend shelter occupants" where we set up the shelter and its communications systems and pass health & welfare information.  On the heels of all this will be training covering digital applications specifically aimed at the ICS 213 resource request form for transmission from the shelter to the Centralia EOC and, if necessary, on to the Lewis County EOC.
The shelter operations training schedule is filled with information and practical exercises crammed into a short period of time, but there simply is not enough time available to do more.  Our team is somewhat used to these practical exercises and, while we will make mistakes, we will learn from them.  It's going to be a good year!