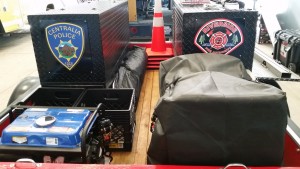 Nine months almost to the day, and the Centralia ARES team's Communication Trailer project is really nearing the finish line.  We're currently working on installing the radios.  Batteries and some internal wiring will come next but today we reached a milestone of sorts when we placed the Centralia Police Department and Riverside Fire Authority decals on the trailer.
Because the equipment boxes had a diamond plate type surface, both decals had to be mounted on aluminum plates.  After cutting them to size and painting them black, the decals were "carefully" centered and put in place. You only get one chance to do this right.
In the photo above, you are looking at the trailer from the tailgate.  Radios, power supply and batteries will be mounted in the right hand box with miscellaneous equipment such as coax, first aid kit, took kit, rope, etc. stored in the left hand box.  Antenna masts are stored in wooden boxes under the aluminum boxes. Two generators, a 10′ x 10′ tent and cones won't leave much room.  The box to hold the solar panel will just fit in the open area left in the middle of the trailer.
In just about four weeks, we hope to roll this project trailer out for viewing by the Centralia City Council as part of National Preparedness Month.  Designed as a stand alone communications platform capable of being towed behind our communications van, Comm II, to any forward staging area, shelter, hospital or disaster scene, it can be unhooked and set up in minutes allowing Comm II to proceed to yet another site.  There is still more work to be done, but we can finally see the end.