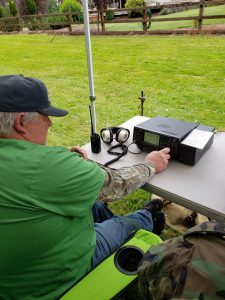 It is almost Field Day once again, this year arriving on the weekend of June 26/27, and we are getting ready. Because of Covid-19, Field Day 2020 almost didn't happen.  We weren't allowed to use our normal Field Day site in Fort Borst Park as we have done for years.  Thankfully, team member Don Lockridge, AI7CE, volunteered to hold Field Day at his beautiful home in Chehalis.  2020 was a slightly smaller Field Day as it was only our Centralia ARES team that participated.  Usually we are joined by members of the Chehalis Valley Amateur Radio Society (CVARS) and the Lewis County ARES team but both groups decided to do Field Day from home last year, leaving Centralia ARES on its own.  This year will be much the same.  Very few CVARS members will be joining us and we will once again be at Don's house since the City of Centralia is, at this time, reluctant to reopen Borst Park.  This, however, gives us a chance to try something new and that is exciting.
While most, if not all, of our normal Field Day activities will remain – using our two comm vans, setting up a tower and beam antenna, potluck and those wonderful cinnamon rolls Evelyn creates so well – we will also take the opportunity to turn the weekend into a emergency communication field exercise.  To begin with, we will test our Alertsense deployment system on Saturday morning for a simulated disaster response where our served agencies are asking us to establish a field Emergency Operations Center (EOC) as a result of an unnamed issue such as a flood or earthquake.  Should a major disaster occur, the need for setting up a field EOC is entirely possible. This "EOC" will be our Field Day site in Chehalis.  Unlike previous Field Day events, all radios and equipment this year will run 100% off generator power or our large storage batteries in the comm vans.  Prior to actually starting Field Day contacts at 11am Saturday, we will also conduct several tests checking propagation from the Chehalis Airport, where emergency supplies would most likely arrive by airlift in a real event.  We will also test HF & VHF propagation from a high overlook point (Davis Hill) located in the north end of Centralia.  Both of these sites would be part of our communication plan in the event normal comms failed for our served agencies.
During the actual Field Day event, we will be erecting a military NVIS antenna on the site, showing everyone how to test it's frequency with a meter, and then hooking it up to our Icom-7300 HF radio in either of the comm vans.  Over the following hour, we will see how many Field Day contacts can be made with that antenna system.  We will have a guest speaker during our normal potluck dinner.  Riverside Fire Authority Chief Mike Kytta and his wife Diane, both ham radio operators, will stop by and Mike will talk to our group about possible fire dangers he sees on the horizon for this summer.  Sunday morning, we will test a different set of propagation challenges specifically from Riverside Fire Station #2's ECC back to our Field Day site.  This will probably require some relays, but we won't know until we try.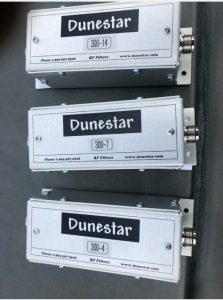 Field Day is always full of issues to solve.  Where to put up antennas to limit interference.  How to erect the tower and beam antenna safely, or what frequencies are best during different parts of the day.  These issues, however, are just part of what we would experience during a real disaster and are part of the fun.  This year, thanks to the work of Chuck, W5KAV and Paul, KE7PCB, we will have some help.  They worked together to order three new band pass filters – one each for 20 meters, 40 meters and 80 meters – to help limit or eliminate interference that occurs when all of our emergency HF radios are used in a confined space.  We are looking forward to seeing how they will work.
Now if we can just get a guarantee for warm temperatures in the low 80's, no rain but gentle breezes, we can erect our hammocks and simply enjoy Field Day, er…. I mean the disaster exercise.  See you on the airwaves.