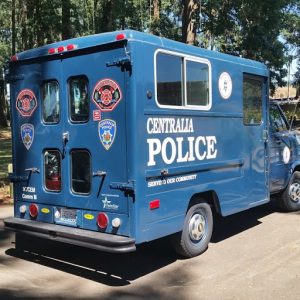 It is November.  Along with days and days of heavy rain, comes our first flood warning.  While this didn't turn out to be much, it is certainly a reminder of what is to come over the next few months.  For some of the new team members, it is their first opportunity to locate and understand Centralia's Emergency Response Divisions.  After one of our past "100 year" floods, emergency managers realized parts of Centralia could be cut off from each other if the Skookumchuck river, the Chehalis River and China Creek all rose at the same time, resulting in five separate "divisions", possibly inaccessible for up to 48 hours.
While this might be an inconvenience, the real danger would be if emergency teams were unable to respond to a fire, power outage or a life threatening incident.  To overcome these issues, city officials decided to place a small cadre of response workers and vehicles in one or more of the divisions susceptible to being cut off by rising waters.  These might include a street department dump truck with sand, a deep water vehicle, a fire engine, a police car or even an Amateur Radio Emergency Service communications van with capability of setting out a medical helicopter landing zone for day or night operations.  Time to make sure everyone on the ARES team knows where these collection points are located in each Emergency Response Division.  To make it a little more interesting, we conducted the situation briefing on simplex while all team members remained in their vehicles.  At least everyone remained dry.
At the same time, it was a great opportunity to put eyes on each of our eleven designated helicopter landing zones.  Finally, we threw a couple of "issues" into the mix by pretending two of the primary roads leading into the north end and the hospital area were closed due to flooding requiring team members find another way around to their destinations.  Rain made the exercise even more realistic.
Within 90 minutes, all team members had located their assignments and checked on all helicopter landing zone locations.  We debriefed and everyone was headed home.  Another catastrophe averted – at least until the next flood incident.