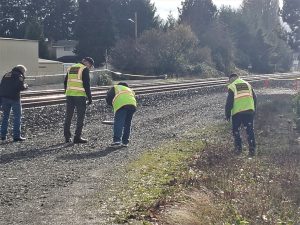 On an unusually sunny morning yesterday, Sunday December 19th, Centralia Police Department requested the ARES team in a support mission to search for evidence at the scene of an ATM bombing in our community.  The team was alerted and thirteen members responded to the call.  Comm III was set up at a staging area across from the scene in a grocery store parking lot.  As team members responded they checked in with Paul KE7PCB, as primary net control.  Jim, K7CEX and Evelyn, KE7ACI served as backup net control from Jim's home.  Once at the scene, everyone was given a situation report and waited for the assignment they knew would come.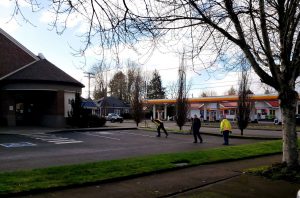 Before long, the team was put to work.  Washington State Patrol's bomb squad had made the site safe and had recovered the evidence on scene that they needed.  Centralia ARES members, once gloved up, were assigned in teams of two or three along with a CPD detective prior to a complete search of the scene nearest to the bombing location.  Over the next hour or two, the teams slowly and methodically searched every inch of the scene – an estimated 10,000 sq. feet, bagging, under the direction of CPD, anything that even slightly appeared to be possible evidence.  Once all search teams had completed their searches, our ARES team was released and allowed to head home.  While a long day, it certainly was an interesting and educational process.
Team members on this detail included Don, AI7CE, Skip, K1HEK, Jim, K7CEX, Evelyn, KE7ACI, Paul, KE7PCB, Frank, KF7RSI, Kevin, KI7KKS, John, KI7YEF, Ken, K6YUQ, Bill, N7GWK, Chuck, W5KAV, Diane, W7DWD and Bob, KD7OWN.  Thanks to all the Centralia Amateur Radio Emergency Service team members who were able to participate.  You did a great job!