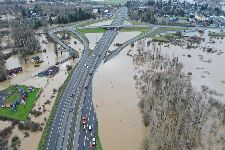 The Amateur Radio Emergency Service team has, over the years, been involved with several major flood events in Lewis County.  Each one is different.  There have been some "100-year floods" and many, many lesser floods – all needing attention in one form or another from the Centralia Emergency Management.
The waters that visited our community January 6-8th, were different yet again.  While Centralia has three waterways that can and do flood – the Chehalis River, the Skookumchuck River and China Creek – it is usually the Chehalis River that causes the most problems.  This time it was the Skookumchuck that grew from a Western Washington snow event and a river of rain that visited the area.  Once the flooding began, it grew quickly into a very dangerous situation.  The Skookumchuck River is held in its riverbanks by levies on both sides of the river.  In normal years, this holds flood waters and safely moves them through the city.  The flood waters of 2022 were so large they threatened to burst the levies.
Thursday afternoon, January 6th, localized flooding caused the city to place sandbag stations out for business and homeowners.  By early evening, most of the downtown streets were flooding and the street department was trying to stay ahead by placing cones and barricades to keep motorists out of the deep water.  By 8pm, the Centralia emergency management had opened and staffed the Emergency Operations Center.  Late in the evening, well after dark, the threat of a levy break forced the city to issue voluntary evacuation notifications.  While most people stayed in their homes, the threat was very real.  By Friday morning, widespread flooding caused the closure of Interstate 5.  Interstate traffic came to a halt as any and all secondary roads around flooded areas were also closed.  This also forced many motorists into the smaller communities where they were confronted with closed streets and water over the roadways.  Centralia ARES worked from Thursday night to Friday evening in the EOC working both amateur radio and law enforcement comms.  Our communications vans were activated as well, using one for command and control for our ARES volunteers and the other for barricade duty and traffic control.  Thankfully, our wonderful ARES volunteers were there to help as well directing motorists around localized flood issues and monitoring river levels around the community.  By Friday afternoon, the waters began to recede and Interstate 5 was reopened.  Our ARES team was able to stand down.  It is never a question "if" flooding will occur each year.  Instead, it is a question of "how bad" will it be.  By late October, our ARES team is training for flood issues.  Large or small, our volunteers are there to assist our community.  Thanks to all the volunteers that answered the call.