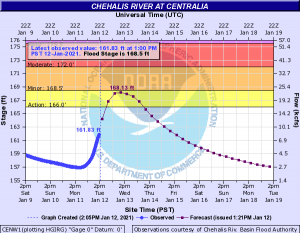 It is winter in our ARES response area and that season means heavy, often difficult rain systems that can easily bring flooding to our community.  We barely missed reaching flood stage two weeks ago and now are faced with even higher river levels over the next few days.
Current river level predictions show the Chehalis River at Mellen Street may be near or actually reach minimum flood stage during the day on Wednesday.  While local rain is expected to taper off Wednesday, the river will continue to rise as rainfall over the last few days hits the river.
Our ARES team members should prepare to conduct some river level checks on the Chehalis River, Skookumchuck river and China Creek during the daytime hours tomorrow.  This may also involve Emergency Response Division checks in various neighborhoods.  At this time, this is not a flood deployment, merely a pre-flood monitoring of the rivers listed above.  Monitor the K7CEM repeater Wednesday and be prepared to be assigned areas to check.  Don't forget to make your go-bags ready and drive with ARES stickers on your vehicles.