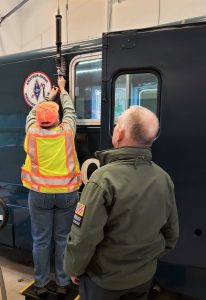 The Centralia ARES team maintains and operates two mobile communication vans.  The vans are maintained, fueled, insured and repaired when needed, by the Centralia Police Department.  Several years ago, the ARES team received the vans as empty shells and team members turned them into the best communication vans in the region by far.
January is the month we dedicate to making sure each and every team member not only knows how to safely drive the vans but, just as importantly, knows how to operate and use every radio and piece of equipment inside and outside as well.  This includes light switches, power systems, VHF, UHF, HF, Police, Fire and even CB radios.  Items used less often such as the helicopter landing zone kit, the backup antenna systems and even the anemometers are also important. Crime scene tape, equipment manuals, map books and field resource manuals, often tucked away, must be checked.  Centralia ARES uses three different power sources to operate the vans in the field – shore power, generators and an on-board battery system – and every team member must know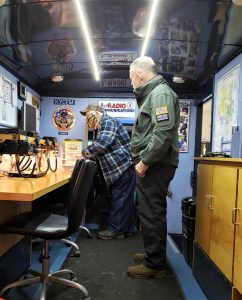 how to operate these systems.
While the communication vans are easy to drive, we prepare our volunteers to respond to the fire department where the equipment is stored, and know how to enter the building, check and start the vans, raise the bay doors and safely transport the vans to where they are needed.  Even when training or a real situation has concluded, the vans must be returned to the station and backed into their parking spaces safely and January is the month to perform this training.
Thankfully, both communication vans are almost identical and a couple of hours of refresher training is all that is needed.  This training becomes vital in an emergency.  In December, when activated for an evidence search after an ATM bombing at a local bank early on a Sunday morning, our Emergency Coordinator, while scrambling to initiate a deployment message, reached out to a team member and asked him to take the necessary equipment, including a communications van, to the scene.  His only question was "what equipment do you need and where do you want it?".  Within minutes, he had one of our comm vans on scene and up and running.  THAT is why we train.