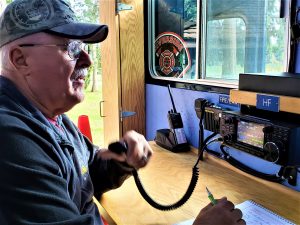 Amateur radio is a diverse and interesting hobby.  After all, we're called "Hams" for a reason.  Some amateur radio operators simply love to chat with other like minded individuals across town on a simple hand held radio.  Others enjoy public service and join Amateur Radio Emergency Service (ARES) teams and support their communities.  And then there are the hundreds of special events and contests on the air waves seemingly every weekend.
One type of contest that has many followers are the State QSO Parties.  Each state holds their particular QSO party on some weekend in the year and the object is to contact as many hams from that particular state as possible and/or contact as many counties as are available within each state.  Washington State named its QSO party "Salmon Run" just because we're a little different.
Centralia ARES, as a group, has not participated in any state QSO parties in the past, just concentrating on the training and exercises we need to support emergency services in the area, but this year was different.  About one third of our ARES team is new to amateur radio and simply don't have the experience necessary to feel comfortable giving a contest a try.  They are, however, interested in learning all about HF communications.  We decided to use the Washington Salmon Run to let these team members get a little experience using our on board HF system in our two communication vans.  This system uses an Icom IC-7300 HF radio, external antenna tuner and the Tarheel screwdriver antenna system.  We also used the contest to test several NVIS antennas, carried for backup on the vans.  Unfortunately, we had to limit our on-air time to four hours on Saturday morning.  Still, we had good weather, a fun group of hams and donuts.  You can't go wrong with donuts.
By the end of the morning, everyone had a couple of contest contacts under their belts and knew much more about the IC-7300 HF radio system.  All the antennas worked well with the NVIS antennas a little better than the Tarheel. When the donuts were gone, we packed up for the day and headed home.  What a great day working with everything Amateur Radio stands for.  Maybe we'll try another contest a little later in the fall.  Thanks to all those who helped set up the vans, raise the antennas, make the contacts and eat… well, you know.