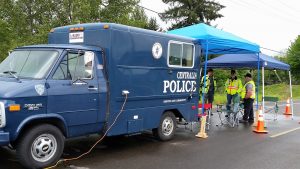 Saturday ended up being cloudy with a few sprinkles and a cold light wind, typical for May in beautiful Lewis County, Washington.  Today, we would help provide checkpoint communications along with the Lewis County Amateur Radio Emergency Service team.  The Lewis County Historical Bike Ride provides several routes in varying lengths of 12, 40, 68, and 100 miles.  Along each routes are checkpoints where ham radio operators monitor riders just to make sure all are safe, hydrated and informed about the bike routes.  Checking off rider numbers between checkpoints and sweeping the routes with a support and gear (SAG) vehicle, ensures any rider with a flat tire or broken piece of equipment is never left behind on the route.
For the first time, Centralia's ARES team was divided between two checkpoints.  Traditionally, we place one of our communications vans at the northern most turn around point on the 68 / 100 mile routes.  This year we were also tasked with an additional checkpoint at the Historic Claquato Church.  Ride Base, located at the south end of the county kept in touch with everyone using the local BawFaw repeater with each checkpoint being assigned a tactical callsign.  By 8am, both Claquato Church and our Mellen Street locations were ready to receive riders.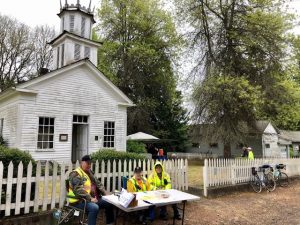 For our team, this event is a little of everything.  We enjoy the comradery, the boxes of donuts and hot coffee and after 2020, an opportunity to be doing ham radio in the field once again.  It is also a training time as we reacquaint ourselves with  our van's communications equipment and have an opportunity to train new team members as well.  The Lewis County Historical Bike Ride is often considered a run up to the much larger Seattle To Portland (STP) 200 mile bike ride usually held in July each year, however this year Covid-19 issues are still present and that ride has already been postponed until 2022.  With fewer riders needing to prepare for STP this year, fewer riders took advantage of the Lewis County Bike Ride.  Over an eight hour event,  approximately 50 riders passed through our checkpoints, but this gave us the opportunity to offer water and chat with the riders.  Many others chose a shorter ride route.  Wind and rain showers made those routes more popular.
It is interesting to note that throughout the day, everyone from the riders to support teams all had smiles on their faces.  The riders were surely tired but they were happy to be doing what they enjoyed… and we were happy to be doing the same.