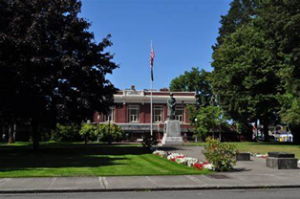 Centralia is located in the northern part of Lewis County, Washington.  Other than the I-5 corridor that runs through our community, the terrain is never flat.  Four hundred foot hills covered in large fir trees radiate in every direction.  When roads were laid more than a century ago, those constructing the roads looked for the natural ravines between the hills.  Around here, roads were not built on the hilltops instead opting for the easier construction sites found near the creeks and rivers that occupy most if not all the valleys in the area.
Over a decade ago, we installed our K7CEM repeater at a Riverside Fire Station on top of Cooks Hill.  Examining a propagation map of the site showed a beautiful 360 degree circle out around the repeater.  As we have learned since that time however is that propagation at ground level in and among the valleys and ravines that surround Centralia is not that simple or easy.  Transmitting from one of the country roads in our service area means about 50% copy depending where you are at at the time you press the tx button.  Basically, in many cases, it depends on your location along that road.  Hit and miss just isn't good enough so this fall we set out to map, as exactly as possible, where we could and could not be heard along the 15-20 roads disappearing out into the country.
First, we designed a field exercise sending team members out in every direction and asking them to transmit from identifiable locations such as intersections and small, adjoining communities.  This gave us a baseline to begin filling out propagation map.  The shape certainly was not a perfect circle.  It was more like a large "K" shape. Hmmmm..
Next we came up with a different and fun way to do our propagation tests.  We call it "Operation Propagation".  We identified 19 state, county and city parks within Centralia, Chehalis and the adjoining County area.  We added three historical markers and two volunteer fire stations to round out the list.  We then made it into a contest.  Check into one or both of our two repeaters and contact another ARES team member and you get between one and four points.  One point for the each repeater on your mobile rig and one point for each repeater on your HT.  Make all four contacts and you get four points.  By logging this information, we get some great propagation data which is then inserted into the map.  To make it more fun, if you make a contact with our Emergency Coordinator, you will receive a special one of a kind Operation Propagation QSL card in the mail.  Make even one contact and you receive a certificate.  Special endorsements include making at least one contact on your HT, making contacts while bicycle mobile, contacts on multiple repeaters and finally a park to park contact will also get you an endorsement as well.
Operation Propagation will run through the end of the year.  When 2021 rolls around we will declare some winners and issue the certificates.  Win or lose, this contest brings accurate data to our propagation map.  It requires team members to locate each park, historical marker or fire station helping them become more familiar with their response area and has generated a large increase in the use of our repeaters as we chat back and forth while travelling to the different sites.  I think our propagation map will be substantially more accurate when 2020 closes.  Look for a report on the results in January.