On the morning of July7th, the ARES team was contacted by Centralia Police Department and asked to assist them and Riverside Fire Authority in a ground search & communications link for a missing 93 year old male.  The Alertsense call up notification was sent out and team members were asked to meet at a grange hall in north Centralia that was being used as a temporary command post.  As the team was assembling, we learned that our missing person was last seen the day before but had not returned home overnight.  Suffering from dementia and seizures and walking with a cane, the family was obviously very concerned for his safety.
Incident Commander, Sgt. Croy, brief everyone prior to beginning the search.  He then divided searchers into seven teams, each team comprised of a fire or police volunteer and one ARES team member.  All teams were to use amateur radio to communicate with Incident Command.  Each team was given a residential area to search, going door to door, showing the photo of the missing person and asking permission to look through back yards and in outbuildings.  The ARES team set up one of our communication vans and acted as a "filter" between the search teams and Incident Command.  These kinds of searches contain lots of low level communications traffic that the Incident Commander simply doesn't need to listen to.  He trusts that we will immediately pass along important information to him directly over the CPD radio frequencies.  As each team completed their assigned search area, they returned to the command post for a new search assignment.  This allowed each team to take a quick break, get some water and provided an opportunity for the Incident Commander to look them in the eye while giving them new search grids just to be sure they understood what was needed.   Several drones were put up to search nearby rivers and waterways but these were short term at best due to battery life and heavy rain.
As with any missing person search, once the information and description was given to the public, the Incident Commander starts to receive "I saw him there" reports which all have to be checked out.  Search teams continued their assignments while patrol officers check on these reports.  As the day wore on, and all obvious areas to search were covered, the teams moved to search the most likely of the "I saw him there" reports but after by the time darkness arrived, our missing person still had not been found.  The Incident Commander debriefed all teams and thanked everyone  prior to being sent home around 10pm.
While a long day for our ARES team members, almost everything went right from our ARES point of view.  The notification system worked well and our response was very good.  The communications system worked well with only one hitch.  Originally placed in the grange hall with its metal roof, we were unable to send or receive good enough inside the building to perform our duties.  Once we brought in our own communications van, all worked well being outside and using 50 watts of power.  Our radios, being installed close together, allowed us to monitor the police frequencies, fire frequencies as well as amateur radio.  This made receiving a report via amateur radio and passing it along to the Incident Commander quick and easy.  Inside the van, we used a radio operator, while another ham continuously logged the status of search teams  and still had room for our ARES coordinator.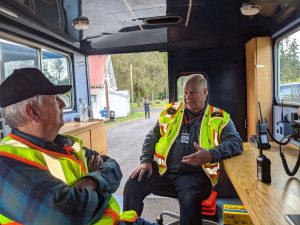 This was our first opportunity in several years to be a part of a missing person search.  While a tremendous burden on the family, it allowed our ARES team to test out what we have trained for.  Once in place, our ARES communications system worked flawlessly and it is always a pleasure to work with our served agencies.