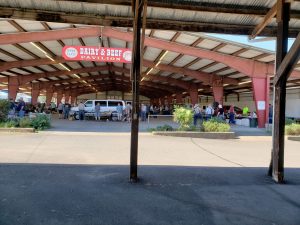 This last Saturday, the Chehalis Valley Amateur Radio Society (CVARS) held its 22nd annual ham radio tailgate swap meet at the Southwest Washington Fairgrounds.  Located in an open pavilion at the fair, hams from all over the region congregated to sell their wares or find that special microphone or key they just had to have.  As the day progressed we watched a constant flow of folks heading out of the pavilion with armloads of used ham gear, and every one of them had a smile on their face.  Many of our Amateur Radio Emergency Service team members, most of which are also CVARS members, worked long and hard on Saturday taking tickets, spotting vehicles, working the auction or the information table and generally keeping the event moving.  In addition, Comm III handled the talk-in frequencies and made sure everyone could find their way to the fairgrounds.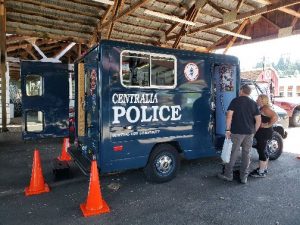 It is amazing how many old friends you find at these swap meets.  Time to catch up on new radios or antennas purchased, hearing about new license upgrades or just reconnecting.  Many hams stopped by Comm III to chat or just look over the communications equipment inside.  Attendees from as far away as Idaho arrived early to get a good spot where they could sell and buy. By noon, things were winding down and the auction was over as everyone began to leave with their treasures.
The ham radio tailgate swap meet has been a tradition for many years in our part of Washington which will hopefully continue for many years to come.  Look for us next year.  It is never too early to start gathering those ham radio items to sell, and it never hurts to start saving up your loose change.  You know you will find something you just have to have.