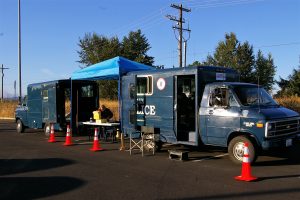 Today's Solar Eclipse Special Event Station & QSO Party was a wonderful opportunity to work together as a team and make history today!  Under a cloudless, beautiful blue sky, the team set up our equipment in the Mellen Street Park and Ride, sharing the area with a couple of dedicated eclipse fans from Vancouver, BC with two great telescopes which made the day even more special.  It took just over 45 minutes to set up the communication vans, antennas and generator but we were ready for the first radio contact just before 8 am.
The team came prepared with Eclipse Cookies, Moon Pies, Solar Shots (coffee) and Mars Water.  Nothing but the best for this crew.  After all, it was a "special event".  We managed to give away all but one of our solar eclipse viewing glasses and even passed out some goodies donated by the police department.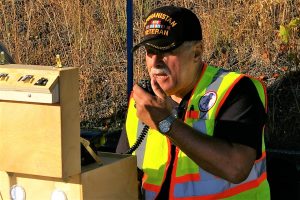 Attendance grew through the day topping out at 31 team members and visitors on site.  The team managed a total of 97 radio contacts by the time we closed the event at 1 pm:  five HF contacts, 30 contacts on the K7CEM repeater and 62 on the BawFaw repeater.  We'll be working during the next week to fill out our two different, one of a kind, special event QSL cards.
Everyone took time to enjoy the solar eclipse – 94% of totality locally – and grab a few team photos.  This crew of dedicated amateur radio professionals can be proud of their work.
After all, We Made History Today!