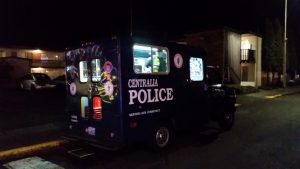 Who wants to come out on a cold, dark December evening and stand around for two hours or more watching some vehicles – of which only a few are actually tractors – covered in Christmas lights drive down the street?  Well, apparently everyone in and around beautiful, historic downtown Centralia does!  The Centralia Christmas Lighted Tractor Parade has been around for a few years now and it just gets bigger and bigger every year.  The number of parade entries last year was around 56 but this year it topped 90.
And this isn't one of those quiet parade.  Oh, no, its a Christmas party on wheels with singing, bands playing, Christmas music on every float and dancing in the streets.  Yup, when it comes to a lighted tractor parade, we know how to party!  This year Centralia ARES had 10 volunteers and two communications vans working the parade.  CPD had 9 officers,sergeants, and two command staff doing walking patrols, on bicycles or in patrol cars.  Riverside Fire Chief Mike Kytta redirected a couple of his aid crews around the parade route and had his small, quick response vehicle in the downtown area as well.
With 10 volunteers, the ARES team was spread out to cover about every other intersection.  The first intersection required two volunteers and two police officers working crowd control to keep the kids back and out from under the floats but even that wasn't enough.  One ARES communications van held the net control and the other van, set up on the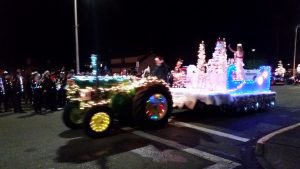 far side of the parade monitored a safety channel just in case one of the volunteers needed help.  We were also responsible for delivering and setting up the police department's communication and command van.  This year, however, it was never used as the Sergeant Patty Finch, the officer in charge of the parade, spent much of her time monitoring the event from inside our ARES van as we had a nice heater going.  Unfortunately for her, when things started to get hectic, out she went into the cold.
Thankfully, just as planned, the parade ended without any major problems or incidents.  It was evident that everyone had a good time.  By 9pm, Centralia ARES had all the vans back in their facilities and all team members accounted for and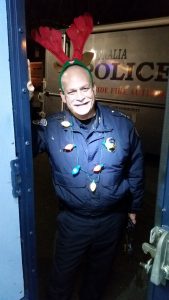 heading home.  Centralia holds two major parades each year, the other being the July 4th Summerfest parade but for us, the Christmas Lighted Tractor Parade is the most fun.  From the looks of it, all those folks standing out in the cold appreciated it as well.  Must be the Christmas season.