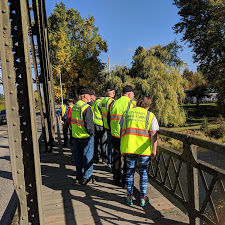 As flood season approaches in the Chehalis River valley, Centralia ARES has been busy ramping up for another year of unknowns.  Will it be a year of minor flooding or is it time for another 100 year event?  Only time will tell.  During flood events, ARES volunteers guard sandbag locations, man the Emergency Operations Center amateur radios, and conduct street by street windshield surveys among other assignments.  Knowing the locations where we can assess flooding on area rivers and creeks is important but many of these places are hard to find, especially for new team members.
Saturday, October 13th, the team took a tour visiting 18 sites on all four of the important waterways in our community.  These consisted of two locations on the Chehalis River, four on the Skookumchuck River, six on China Creek and three on Salzer Creek.  Additionally, we visited several dike locations and the China Creek Flood Mitigation Project site.
Stopping at each location, team members were able to see, first hand, the exact same locations they will be visiting during their flood surveys.  We discussed how and why these rivers and creeks flooded and were able to describe how flood waters affect the streets and neighborhoods in each area.  Finally we discussed the dike system that surrounds Centralia and how that functions to protect the community.
The team has been working on information sheets that will ultimately go into their field resource manuals that provide information on each of these sites as well.  Information will include a street addresses, GPS coordinates, safety concerns, general information about each site and photos.
For Centralia ARES, a flood event windshield survey means combining two pieces of information into one reporting system.  Over a two or three hour survey period, team members are asked to stop at the places in their respective emergency response divisions where they can view the river or creek flows.  They provide a radio report back to the EOC on what they see and report changes they have noticed hour by hour.  When away from the river locations, the team conducts a street by street community assessment reporting power outages, water over various roads or dangerous situations, then it's back to the rivers and creeks to see if there are changes in the flood.  A complete report from each team not only gives the EOC photos or descriptions of the flooding situation but also provides a complete community picture for the Incident Commander who cannot leave the EOC to see conditions for himself.
The APRSdroid tracking system we have been experimenting with this fall does a wonderful job of tracking each windshield survey team and allows the volunteers in the EOC to show their progress to the entire incident command team on the computers and TVs in the EOC.
Floods generally don't come as a surprise to our community.  The National Weather Service does a great job providing days of warning.  Still, a flood is an unsettling event and the large floods can be devastating.  Being prepared to assist our served agencies to the best of our abilities is important to our team.  Every hour spent in preparation makes us better at what we do and we plan to do our best.