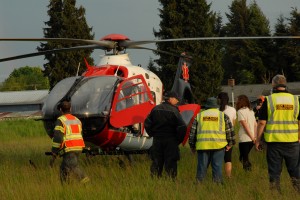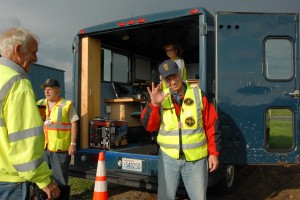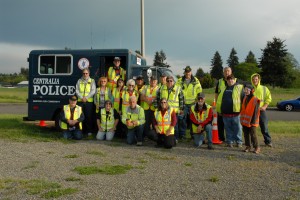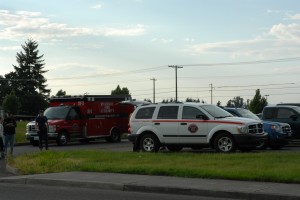 One hour before our planned joint training exercise the weather closed in with extremely heavy rain, thunder and lightening. At the last minute we deployed against all odds and the weather cleared with just enough of a window to launch the aircraft. Twenty Riverside Fire personnel and twenty Centralia ARES volunteers participated. Riverside Fire (RFA) toned out to a simulated motor vehicle crash where all four occupants were ejected from the vehicle. After locating the victims, RFA stabilized the patients and transported to the emergency landing zone in Centralia.
Centralia ARES meanwhile, began setting up the emergency helicopter landing zone.  When RFA and Airlift Northwest arrived at the landing zone, the ARES team was ready and communicating with the helicopter pilot, talked them down to the LZ. Both teams got a chance to practice patient transfer into the helicopter and the helicopter crew spent almost an hour answering questions and giving us a close up view of the aircraft.
Centralia ARES was able to test the communications capabilities of our new Comm Vehicle, designated "Comm II" which worked flawlessly. Police Chief Bob Berg and Fire Chief Mike Kytta were also present and participated in the activities. It was an enjoyable and fun exercise. Here are a couple of photos taken by our team photographer, Teresa Haymaker.