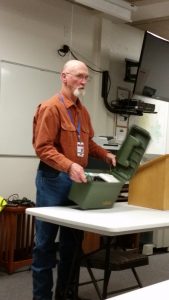 Since our inception, each team member has been encouraged to create and maintain what is commonly called a "go-bag".  Go-bags can be large or small.  Larger go-bags should contain supplies to keep you productive and comfortable over the period of a 72 hour emergency deployment.  Bags such as these can be heavy and are usually carried in your car or maintained at home or place of business.
Small go-bags are designed for a completely different purpose.  Our Amateur Radio Emergency Services team serves a smaller community and rarely deploys for more than an 8-10 hour period of time and we usually don't travel far from home.  We have been working, therefore, to adapt the smaller go-bag to support each team member during training and team exercises which generally occur within the community.
Over the next four months and beyond, changes to our training plans will include more training out in the community and less in the classroom.  We will practice setting up emergency shelters at various churches and buildings in the area.  Extensive practice at deploying our communications van and setting up our shelter communications trailer will place us outside even more during the often wet and cold Pacific Northwest winter.
We've talked extensively about the changes in the way we do training and team members have likely given some thought to what they might need during these sessions but there may be a few surprises.  Basically, when preparing a small go-bag, you should consider what you will need for that evening's training or exercise AND what you might need if things don't  go as expected.  Suggested items include one or more handheld radios (HT's) as well as extra batteries and a mobile charging system.  Extended antennas allow more range, especially from within a building.  Your field resource manual and note taking supplies will be important and since much of the time we will be working in the dark, a good lightweight flashlight (or two or three) should be included.  A small first aid kit and even a med's kit (aspirin, throat lozenges, cold tablets,etc) as well as a few small snacks such as a power bar will keep you going.  Don't forget the comfort items.  Gloves, hand warmers, and perhaps a stocking cap will help keep you warm and comfortable.  A good multipurpose tool or pocket knife always comes in handy.
Go-bags, large or small, are personal items.  They should always be designed with you in mind but a heavy go-bag becomes a burden.  Keep your small go-bag under 10 pounds if possible.  6-7 pounds would be even better.  Remember, you are packing the equipment you may need for a 2-3 hour training deployment.  Be creative.  Throw in your favorite candy bar just to make the evening special.  Pack what you need but be prepared for a few surprises.  What if the power went out while setting up a shelter?  Successfully setting up the shelter may come down to a good flashlight.   If communications between the shelter and the EOC depended solely on your HT, do you have that extended antenna that might make the difference when working from inside a building?   Since everyone has been asked to bring their go-bag as part of their deployment equipment, take the time to look at what others have created.
"When all else fails…amateur radio works!"
Do you have everything you need in your go-bag to make this happen?