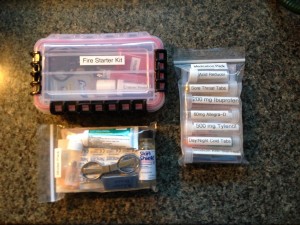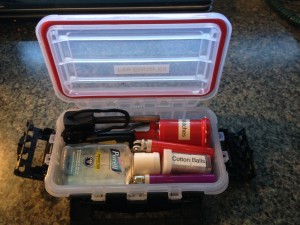 Dividing first aid supplies into easily recognizable mod-ules can make reaching for a necessary item quick and easy. Try not to stuff your first aid kit with 50 band aids or 20 4″x4″ bandages. Instead, make your kit smaller and com-pact using perhaps 4 or 6 bandages then after you do use an item, replace it as soon as possible.
Three first aid modules, the fire starter kit, the blister kit and the medication pack, were introduced at our last ARES meeting.
The fire starter kit contains four different ways to start a fire plus two items to enhance fire starting in wet, windy conditions – all in a 41/2″x71/2″ waterproof box.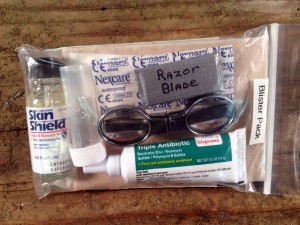 The blister kit includes supplies to treat hotspots, as well as small and large blisters.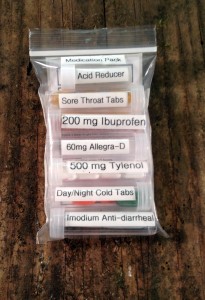 The medication pack has seven common over the counter medicines de-signed to provide temporary relief for anything from a cold with sore throat to pain, allergies and even diarrhea.
Both the blister kit and the medication pack fit nicely into 4″x6″ baggies which makes each kit convenient to stuff into a pocket or purse if neces-sary. The blister kit and the medication kit are part of a larger and more comprehensive Go-Bag first aid kit. Breaking the first aid kit down into smaller modules allows for easier storage and quicker identification of needed supplies.  These kits came from the creative mind of David, a You Tube video mas-ter and we thank him for allowing us to experiment with his excellent products. You can find more about his fabulous kits on YouTube. Just do a search for videos from "USNERDOC".