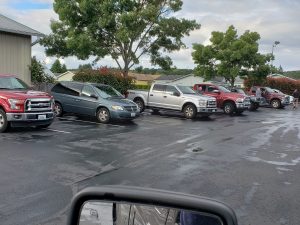 Covid-19 has certainly dictated changes in the way our Amateur Radio Emergency Service team trains.  On-air morning radio nets on Mondays and Thursday have replaced the regular meetings at our favorite local coffee shop.  Zoom meetings are now our social gatherings – at least for awhile.  Our normal twice monthly training sessions at the church have stopped as well.  We're not complaining – too much – and we've had some interesting training sessions on Zoom that help us stay together but as wildfire season approaches the need for field training becomes ever more important.
Riverside Fire Authority (RFA) is one of our served agencies and as such, the ARES team trains to support them during wildfire season.  Our volunteers become a "force multiplier" as Fire Chief Mike Kytta calls it.  Wildfires are a major threat during the summer heat.  Any fire which begins amid summer heat and strong winds can quickly get out of hand. While RFA throws multiple resources at the fire, one issue that can change a controllable local fire into a conflagration is fire brands on the wind.  Moving beyond the fire line, into brush and yards, small fire brands can start multiple new fires ahead of the main fire sometimes high up in the trees.  If not dealt with quickly, fire personnel can have a major disaster on their hands.
Centralia ARES trains to support the fire teams in several different ways.  Using a quick alert system that tones our ARES staff as the same time the fire department receives the alert, we deploy a "rapid response team" who's job it is to establish a net control, retrieve our two communications vans, and set up a liaison with the fire department's on scene command.  If needed, the remainder of the ARES team receives an alert to respond.  After safety briefings and assignments, the ARES team conducts windshield surveys ahead and around the outside parameter of the five ranging along streets or country roads ahead of the fire looking for spot fires.  Part of the ARES team begin identifying the best evacuation routes should they be needed and provides that information back to the communications vans.  The real reason for the vans is to place an ARES communications hub as close to where we are conducting the windshield survey teams as safely possible.  The vans have a radio officer and scribe whose job is to keep in constant communication with the windshield survey teams.  A safety officer monitors a radio safety frequency and provides another set of eyes and ears for the team.  Finally a comm van leader oversees deployment of the windshield teams.  Prior to moving into the smoke filled area around the fire, the van leader confirms with each team where it needs to go on their maps, what radio frequency will be used and if they have their Personal Protective Equipment (PPE) in their go-bags.  COVID-19 has definitely made training for this kind of event harder.
For the first time in months, we just completed some field training – with a few changes.  All team members responded to the initial training exercise briefing location but the briefing was give over a simplex channel while everyone remained in their own vehicles.  Instead of two comm vans, we used just one this time with the radio operator alone in the van and the team leader outside the van.  All communications were done over a simplex frequency.  All assignments were completed without physical contact.  The fun part for us was when Chief Kytta (also a ham radio operator) joined us from home.  He provided advice, information on how the fire department would deal with this pretend fire if it was real, and freely gave some needed real time support.
At the end of the exercise we gathered again, still in our own vehicles, back at the fire station for a debriefing session.  Chief Kytta gave his own debrief to the team before each team member was given the opportunity to discuss the exercise over the simplex channel prior to leaving for home.  We will be doing more of this kind of training as the summer progresses.  It is important to be trained and ready even during a pandemic.