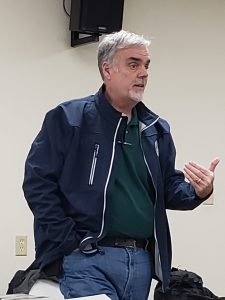 February 3rd's training night gave us a chance to sit down and chat with Scott Dakers, W7SGD.  Scott, a Centralia ARES team member, also serves as the Washington State EMD Logistics Communications Unit Lead at the Washington State EOC located at Camp Murray.  Many changes at the SEOC in the past six months have been directly related to Scott's desire to improve the relationship between the SEOC and amateur radio emergency communications groups around the state.  We wanted to know how we should train to meet these goals.
So what are these "changes"?  Exercises, designed by Scott and the WEOC over the last months have pushed training on the ICS-213 Resource Request (RR) form.  This is the form that Emergency Managers and EOC's around the state  use to request everything from beans to bulldozers if needed to deal with a disaster.  Once the Emergency Managers and EOC determine a specific resource not currently available to them, the request process begins with county assets and if necessary, to the Washington State EOC.    While not overly complicated, the ICS-213RR form does require quite a bit of information.  In smaller EOC's like Centralia's, the Logistics Chief may be the Streets Department Lead on normal days.  You can bet he is not as familiar with the ICS-213RR as will be required in a disaster.  This is where amateur radio operators in the EOC will help create the resource request and send it along.  Once signed off, how is this ICS-213RR form sent if all normal communications have failed?  In most cases this will be either voice or Winlink.
Scott has encouraged amateur radio groups to become comfortable with Winlink primarily because in a disaster, most amateur radio voice frequencies will probably be overloaded with hams requesting situational information.  Winlink allows the information to be forwarded and stored at the SEOC until someone there can deal with the request, but voice communications is still vitally important.  To that end, Centralia ARES has been practicing several times each month with 60 meters net operations, among others, that connect us with SEOC.  60 meters is a shared frequency where amateur radio operators are secondary users but it brings military, FEMA and amateur radio together on one frequency.  Centralia has also applied and been approved as part of the SHARES Homeland Security communications system – yet another available frequency that would most likely be much less overwhelmed during a local disaster.
Future exercises have our ARES team practicing with the ICS-213 general message forms and the ISNAP situation reports reporting with both voice frequencies and Winlink.  For us, these exercises are even more important due to our choice to use our two amateur radio mobile communication vans.  While our EOC is in a fixed location at Centralia City Hall, it is susceptible to a larger earthquake and it currently has no HF capabilities but both our vans have it all from CB up through police/fire and amateur radio HF including Winlink and even CW.  Communications exercises with these vans happen continually and we really appreciate their capabilities.
Scott will be a presenter at this year's Communications Academy at South Seattle College.  We certainly look forward to listening to his presentation there but we thoroughly enjoyed sharing a relaxed but informative conversation at last evening's training.  Thanks Scott!