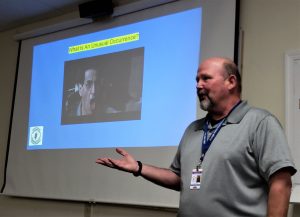 In recent months, Centralia Amateur Radio Emergency Service (ARES) has expanded its emergency communications role becoming a SHared RESourse (SHARES) member, integrating our response capabilities with the Washington State Emergency Operations Center (SEOC) and working to ensure our 60 meter capabilities.  The question always comes up asking why we need to do this and we've seen the answer often in our ARES work:  "When all else fails, Amateur radio works".  The answer, for our team, is simple.  If ALL communications should fail due to a catastrophic disaster, our radio team would be tasked with creating a major communications link with the SEOC and outside response agencies.  Creating this important link cannot be left until the disaster occurs.  A major communications failure places our community in serious trouble and we want to be part of the solution and not part of the problem.
At Last evening's training, retired police officer Ken Adams, KK6YUQ, gave a great presentation on the Incident Command System and how our ARES team fits into Centralia's EOC.  Our EOC is small but has proven itself through several 100 year flood events and our amateur radio station, embedded in a corner of the EOC has been an important asset.  Ken also took the time to familiarize the team with the ICS-213 Resource Request form.  This form, becomes vital when the need arrives where our community must request outside resources after a disaster and it is important that all team members are familiar with its purpose, what it looks like, and how it will be used.  In a situation where all communications are down, expect amateur radio, the EOC's amateur radio operators would be very busy sending these forms by voice or Winlink.
Ken brought some great training to our ARES meeting and the team responded accordingly asking important questions which resulted in several discussions about our role in Centralia's Emergency Operations Center.  The ICS system is required by police and fire… and amateur radio.  Knowing how the Incident Command System functions and how it relates to our local ARES team will always be important.  Thanks to Ken for a great training presentation.