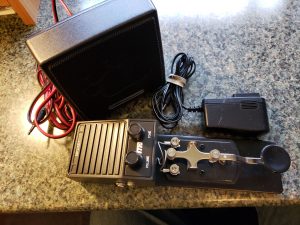 Our CW code class has been hard at work sorting out the "dits" from the "dahs" but we're having fun.  The group met for the first time October 24th.  Using the Gordon West instructional CD's we've begun the long process of learning all those letters, numbers and punctuation.
Now, down the road almost two weeks, I'm sure many are sick and tired of those practice CD's.  Still, the Gordon West system is a fun and easy way to learn the code and working together as a class is an easier way to learn than by yourself.  At last night's ARES training, team member and advisor Lyle Olmsted, KB7PI, gifted our code class with a sweet little MFJ-557 straight key code oscillator and speaker system.  This practice key will allow the group to put the code into practice so we can hear each and every mistake and success.  Learning the code by listening to instruction CD's is only half the battle.  You can't use the Morse Code unless you can both receive and send it.  Many of our group don't currently have a way to practice sending the code so this gift will be fun to have.
Thanks to Lyle for his generous gift.