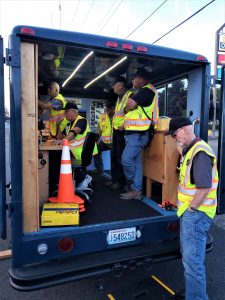 Approximately one third of our team members are new to High Frequency communications. Moving from VHF HT's to HF with all the confusing radios, tuners, and larger antennas takes some practice – especially on our mobile communications vehicles which are constantly in use. Working together always makes the job easier.
We all love those warm, pleasant August evenings when memories of the Pacific Northwest's rain are far away. The ARES team used just such a warm evening to practice setting up our communication van's long wire backup antenna. Each communications van depends, for HF comms, on the Icom IC-7300 HF radio, tuner and Tarheel antenna mounted in each vehicle, but we also believe in redundancy. As a backup, each vehicle carries an all band, long wire antenna. While the Tarheel requires just a push of a button, the long wire needs several willing volunteers to erect it. Using on board military grade fiberglass sectional poles as the mast, the long wire must be attached to the poles, raised and tied off, but this is great practice for all.
When the antenna is up, oriented correctly and tied off, we get an opportunity to spend some time introducing the HF equipment to team members unfamiliar with the system. The IC-7300 is a great radio but still requires some time to get used to its many settings. Before long, however, voices were coming in over the 40 meter band and we were making contacts.
Washington State's QSO Party – called "Salmon Run" – is scheduled for September 21st and 22nd. This event is a great opportunity for hams new to HF to experience contesting and Lewis County has fewer hams than many other counties in our state. The team is setting up several practice dates before Salmon Run so that we can be ready. At least some of those practice days will probably be warm August evenings. All too soon, the rains will reappear. Look for us during "Salmon Run" in September and give us a call.