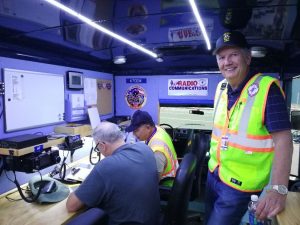 Every one of our ARES team members owns one or more, often many more, amateur radios.  When you attend training or exercises, we assume you always come prepared to use your personal radios but that may not be enough.  During our last exercise we needed to use our HF radio systems and our digital systems to talk with the State Emergency Operations Center.  Unfortunately, most arrived with only VHF radio capability, usually a mobile radio in their personal vehicles.
With only one ARES communications van deployed and one team member available with mobile HF capability, this severely limited our ability to perform the mission  To make matters worse, the only team member with HF capability was soon attached to the van cutting our HF capabilities in half.  With the added assignment to quickly set up a helicopter landing zone,  requiring our van which carried the LZ equipment, our ability to do both HF contacts with the State EOC AND deal with landing zone preparations created more than we could handle.  Thankfully, we had one team member at his home with both HF and digital capabilities who could assist.
While our team does a great job of prioritizing mission needs in our training scenarios, we need to maximize our communications capability among each and every team member.  With the vast majority of our ARES personnel either Extra or General class hams, meeting the licensing requirements for HF work is not a problem.  For some, adding HF to their vehicles is a cash flow issue, while others struggle with installing HF equipment in their vehicles and making it all work.  Still, even one or two additional mobiles with HF capability greatly expands our capabilities.
Have you been thinking of adding an HF radio to your vehicle?  Every additional HF radio available on scene during a disaster or even an exercise makes a huge difference in what we can accomplish.  The team has several knowledgeable people capable of helping you install and set up a multi-functional communications system.  Even if adding an HF radio to your vehicle is not possible at this time, there are other options.  Take the time to learn about how to operate the HF (and digital) systems in both Comm Vans.  The option of taking you out of your own car that has only VHF capability and placing you in the vans as a primary HF operator is significant.  As ARRL Chief Executive Officer Howard Michel reported in this month's QST magazine, "Hobbies are undertaken in one's leisure time for pleasure.  Services activities (ARES) helps someone else".  Being an Amateur Radio Emergency Service team member means stepping up your game.  Have you done everything possible to maximize your ability to serve our community and our first responders?