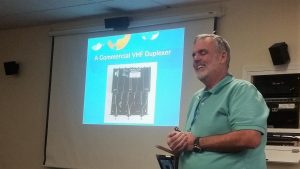 The days of sitting for your amateur radio license in front of a FCC examiner are long gone and most would agree that is a good thing.  The method currently used seems to produce more new hams with the least number of study hours.  Unfortunately, that isn't the whole picture.  Those of us who spent weeks if not months attending a licensing class in the past often feel we were better prepared after receiving that all important license.
After a recent and successful licensing class sponsored by the Chehalis Valley Amateur Radio Society, we thought we would try something different and initiated a basic "Repeater 101" presentation at our Ham Lab.  Our idea was to take questions from those who had been recently licensed and determine where they felt they needed more in depth training. We began wit the Repeater 101 class because almost all new hams have their first experiences on a local repeater.  While they quickly understand how to use a repeater, they often don't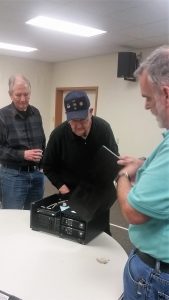 know how a repeater functions.  Scott Dakers, W7SGD, a Centralia ARES team member and the Radio Room Manager at the Washington State EOC gave the class and targeted the repeater 's basic parts and how these parts come together to create a repeater.  He also explained how propagation works and gave some fun ideas on what other ways an HT can be used.  Scott brought two different portable VHF repeaters for "show and tell" which really helped as those present could physically put their finger on each part and ask questions.
This didn't turn out to be a giant class but there were hams there from three different local groups which was nice to see.  One difficulty for us is targeting the local Fire Hams – those Riverside Fire personnel who are also amateur radio operators but who hold their regular drill night on the same nights we train.  Working to find the best training day for both groups could be difficult but is important.  The Repeater 101 class was but a small attempt to educate our local ham population on the basics that are sometimes passed by when working toward their licenses but we hope it helps as many as possible to have a better understanding of our fascinating hobby.