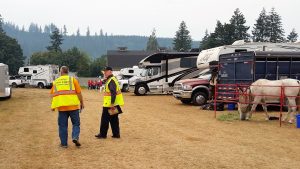 Amateur Radio Emergency Service teams from Thurston County and Centralia came together last evening deep in the rural farmlands of west Lewis County to help with the 2018 Willapa Hills Midnight Trail Ride, an event, as the name implies, to support two different horse rides along the Willapa Hills trail system.  The Willapa Hills Cheese Farm was the central start point for two different rides and held the net control station for the ARES teams.  The Endurance Ride, nearly 30 miles in length, ran from the Willapa Hills farm to the Adna trail head and back while the Trail Ride travelled west from the farm to the town of PeEll and back.  While both rides began in late evening,  darkness came before most riders were on the trails.
For the nearly sixty riders, this event tested horsemanship in many areas.  Horses prefer the light of day and being a single horse and rider working their way, alone, along miles of trail only four feet wide in total darkness with trees and bushes on either side using only a headlamp can be lonely and unnerving.  For example, horses that had walked miles in total darkness suddenly entered the small town of PeEll as they neared their turn around spot.  Faced with a normal sidewalk, which wouldn't have been a problem in the daylight but which glowed an eerie white under the streetlights, many horses were frightened and simply refused to cross the barrier.
For hams, there were different challenges. Working the 30 mile course using a variety of mobile radios and HT's was interesting.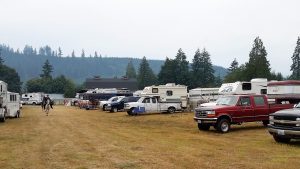 Most of us worked locations where the trail crossed a road and our job was to be sure it was safe for the riders to cross the road.  We gathered their rider numbers and reported the information back to net control so no horse and rider team would be left stranded and alone on the trail.  For most of the ARES people, this meant sitting outside of our vehicles at a wide spot on a narrow country road in order to see the riders as they approached often lit only with a glow stick.  To protect the rider's night vision, each ride monitor used only red headlamps for illumination.  Wind and a constant drizzle made it more difficult for everyone.  It was also interesting to note that "bear spray" was a suggested but optional carry along for our go-bags.
Without enough hams to cover every road crossing, several had to reposition to alternate locations and back during the night but the event was planned well and there were no real issues.  By 1 am in the morning, all riders were back at Willapa Hills Farm and the ARES teams were released to head home.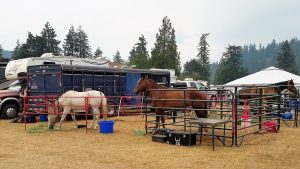 None of the Centralia ARES team had ever worked an event like this and it was interesting to work in total darkness in an area we were unfamiliar with under less than perfect conditions.  Most of us used our mobile radios plus one or two HT's to keep in contact with each other and net control.  Preparations included food and snacks, a wide array of clothing for all conditions, a complete go-bag, red light headlamps and traffic wand as well as nearly 30 pages of instructions, frequency lists and maps.  The event went off without any problems, as well planned events tend to do.  The Thurston County ARES team did a great job coordinating all the hams and it was nice that just about every horse rider thanked us as they passed.  One rider mentioned that after riding alone in the dark for miles, just seeing that little read headlamp in the distance and knowing the hams were there made her feel safe.  Congratulations to everyone involved for a job well done.  Hams do good work!