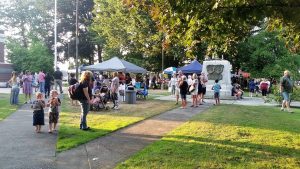 Tuesday, August 7th was one of summer's hotter days, but it was beautiful under the trees at Centralia's downtown Washington Park.  The 2018 National Night Out Against Crime (NNO) already had the bounce houses, concession stands and dunk tank set up as our ARES communications van arrived and parked amid all the police cars, fire truck and other assorted display vehicles.  This is the team's second year participating in the Community Policing public event.  Last year, our expectations were that we would just be part of the static display group, showing off our amateur radio communications equipment but that quickly changed when John, AD6KT asked one young man who was viewing the van if he wanted to talk on the radio.  Quickly setting up one of the team with an HT further back in the park that the young man could talk to, John put him on the air.  After that, the line formed and before the evening was over approximately 70 kids had talked to that ham on the HT.
This year we were ready for them, with a slight twist, when we stationed our newest ARES team member 11 year old Andrew, KI7ZFA on the HT in the park thereby allowing "kid to kid" conversations.  Over the evening, Andrew and the other team members working the event did a great job introducing everyone to amateur radio.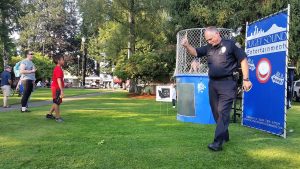 Paul, KE7PCB, who delivered the communications van, certainly picked a perfect spot to set up.  For the rest of the evening we were treated to some great entertainment since the dunk tank was placed right next to Comm III.  For hours, we watched many of the CPD officers, including Chief Carl Nielsen, Commander Stacy Denham and Officer Angie Humphrey bravely slide into the (cold) water, all with a smile on their faces.  We were recruited to help refill the dunk tank by Riverside Fire Chief Mike Kytta and helped with the available fire hose.  Sitting close enough to get splashed every time someone hit the mark on the dunk tank, many of the ARES team were more than a little "soaked" before the evening was over, but no one complained with temperatures in the 90's.  It was great to be surrounded by our served agencies.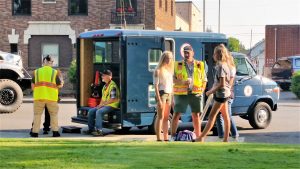 This year's National Night Out event offered plenty of fun for all ages with free ice cold water, snow cones and hotdogs, as well as lots of games and activities.  The bounce houses were packed and a great (and loud) band worked the crowd from the Gazebo in the park.  Out on the static display on College Blvd, ten or more police cars from various departments, SWAT equipment, and a fire truck from Riverside Fire Authority were all on display.  What a great evening for this special event.
Thanks to all the amazing ARES volunteers who braved the summer heat to display what Amateur Radio Emergency Service does for the community.