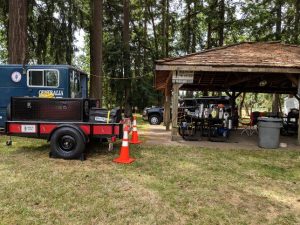 Field Day 2018 is in the books and we're already making plans for some changes in 2019.  What began as a cloudy, breezy day turned into a beautiful sunny afternoon and pleasant evening on Saturday and a warm afternoon
on Sunday, just when all the towers, radios and equipment had to be disassembled.  While the bands weren't perfect, we all had a really good time with CW numbers just beating out the voice count.
Lewis County EC, Bill Harwell, provided breakfast both Saturday and Sunday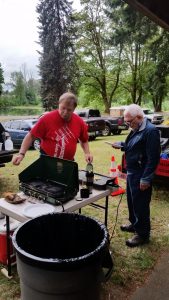 and our cinnamon roll queen, Evelyn, came through once again with decadence covered in frosting!  Saturday included a great potluck and our chef, Dan, used every inch of his new eight burner grill to provide hamburgers and hotdogs to a hungry crowd.  For some reason, the contact numbers always seem to drop just after the potluck dinner.
Six meters was open so several people took the opportunity to make some contacts.  In our area, 20 meters was the primary band for CW operations with voice working 15, 20 and 40 meters successfully.  It is always fun to have new hams or even experienced hams who have never attended a Field Day event take part in the festivities.  Our newest ham, licensed only two weeks ago, and eleven years of age, won the hidden transmitter hunt and managed to beat a bevy of way more experienced competitors.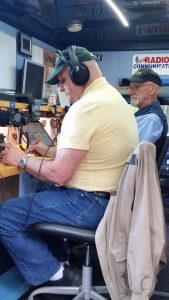 Field Day may be about the contacts for some, but for us it is about the people and just spending time together.  Once again, Merle Olmsted, travelled from Kentucky to spend the weekend with us racking up CW numbers.  Not to be outdone, he once again beat out all the other voice contacts combined.  Merle combines a trip to see his brother Lyle, a Centralia ARES AEC, with the chance to show us all how CW is done.  Thanks, Merle, we love having you join us.  Our thanks as well to Centralia  Police Chief Carl Nielsen and Riverside Fire Authority Chief Mike Kytta for stopping by and visiting with our teams.  Your sponsorship as our served agencies means a lot to us.
Finally, a great big thank you to everyone who spent all or part of the weekend with us in beautiful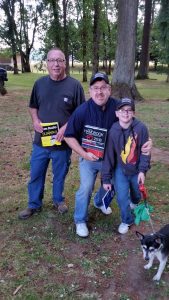 Fort Borst Park this year.  Under the huge fir trees, next to the lake is a great place to practice our hobby and good friends made this weekend perfect.