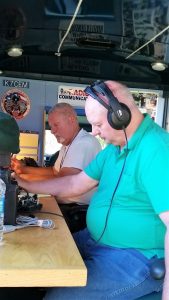 The very first official Amateur Radio Field Day was held in 1933, sponsored by the ARRL.  85 years later Field Day is as fun and educational as ever.  Hams continue to demonstrate their ability to set up emergency communications in the field and make amateur radio work, when all else fails.
Our 2018 Field Day, on June 23-24th, will once again be a joint effort with the Lewis County ARES team and the Chehalis Valley Amateur Radio Society.  Located in beautiful Fort Borst Park in Centralia, at shelter #1 next to Borst Lake, Field Day is a training exercise, a  contest, a demonstration for the public, a display of our capabilities for our served agencies and an all round good time.  For newer hams, this is, by far, the best place to learn the ins and outs of amateur radio. Field Day tests everything we train for as a team.  We will use alternate power systems, install makeshift antennas and hang them from the trees, work poor propagation conditions through a 24 hour period and push our emergency communications vans to the limit – all in field conditions.
Planning begins right after the last Field Day.  What worked and what didn't?  What will we do differently next year?  Coordination begins in January when we put in our request to use the Borst Park site and start assigning responsibilities.  By the first weeks in June, vehicles, radio and antenna placement are being plotted out.  Special events, such as our annual hidden transmitter hunt and our huge potluck dinner are being coordinated and prepared and those who volunteer radios and antennas are having second thoughts.  Nevertheless, the excitement always builds as Field Day approaches.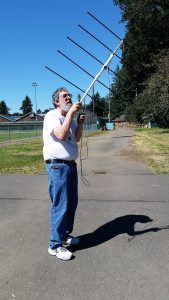 This year's main event begins Friday, June 22nd at 5:00pm as we gather in the park to begin setting up equipment.  Vehicles and display locations will be determined and antennas will be raised.  Nighttime lighting needs to be set up, coax run, radios tested and, depending on the weather, pop up tents or canopies may need to be erected.  By 8:30 pm or so, things are in pretty good shape.  Even as most go home, one or two hams will need to stay on site throughout the night as there is lots of expensive equipment  on site to guard.
Saturday begins early as everyone arrives to finish last minute setup work.  Generally, there will be at least one tower which holds a tri-band antenna and four-six wire antennas that must be erected and tested.  Lewis County's EC Bill Harwell, AC7SR, will once again be cooking a great breakfast as we get the day started off right.  By 11 am, everything needs to be ready.  Working multiple radios from separate locations around the site and on different frequencies, operators take turns throughout the next 24 hours making contact with as many hams across North America as possible.  Conditions will vary throughout the day and nighttime hours testing our ability to make the communications happen.  Later in the day, while some continue to work the radios, others will participate in the hidden transmitter hunt using their HTs and perhaps a homemade antenna.  Later in the afternoon, hamburgers and hotdogs begin cooking on the grill as we come together for a beautiful potluck feast.  As the sun goes down, and through the night, those working the radios continue to work the propagation changes to keep making contacts.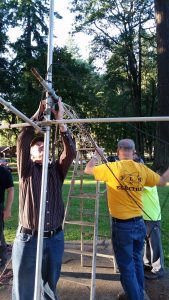 Sunday morning  begins again with a great breakfast even as we continue to work the radios.  At 11 am, the event comes to an end as the radios are shut down.  The next few hours are spent taking down antennas, disconnecting radios and returning equipment to its proper locations.  Another Field Day is in the books.
If you are a new ham and this is your first Field Day, it has probably been a busy weekend for you.  You have likely helped put up several different antenna systems, perhaps had the opportunity to make a contact on many different (and expensive) ham radios, and maybe even tried some CW with an experienced operator.  You've had the chance to see radios operate using alternate power sources, tried to find a hidden transmitter using only your own HT, and met some great hams – some young, some old.  You've learned how an antenna in the trees connects to coax and to different radios.  You now know how to ground your radios and, whether you realize it or not, you've had a taste of amateur radio contesting.  At every Field Day, experienced hams with years and years of knowledge are available to share that experience with you.  It is exciting, educational and fun!
See you at Field Day 2018!