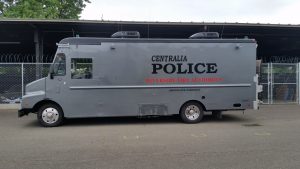 At last evening's ARES training, the team conducted an orientation on three of our communications vehicles.  These included Comm I, the Centralia Police Department's Command vehicle.  Comm I is a large vehicle, separated into four office cubicles each with its own computer and radios.  With a large, hydraulic lift platform on the rear of the vehicle it is even wheelchair accessible.  This type of vehicle is used by Centralia Police and Riverside Fire Authority for on scene command and control of large scale fires, officer involved shootings, hostage negotiations or even bank robberies in progress.  It is equipped with amateur radio and law/fire radios.  Centralia ARES is often asked to deploy Comm I to parades and special events and we use it each year as part of our Field Day event.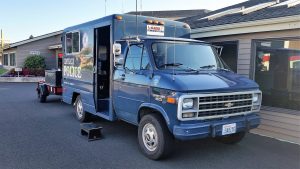 Comm II, is one of two Amateur Radio Emergency Service communications vans.  This vehicle is much smaller than Comm I and easily deployable by any team member.  The vans contain multiple communications systems including, several dual band vhf/uhf radios, HF and digital availability, law/fire radios, HT's, and a Citizen's Band radio.  There are currently 23 systems on board Comm II that each team member should be familiar with so regular orientation if important.  With several alternate power systems such as shore power, large internal storage batteries, generators and the normal vehicle power, these vans can be used in almost any disaster response role.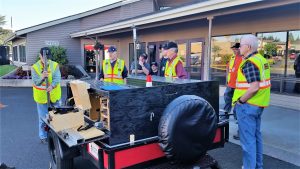 Comm IV is a small, tow behind, communications trailer specifically designed to provide "drop off" communications to emergency shelter locations such as a local church.  The vehicle has on board generators and a solar system and can be also run off shore power.  Containing an HF radio, Vhf/Uhf dual bands, a fire/law radio and a "radio in a box" that can be removed from the trailer and taken into a shelter, this small trailer is packed with disaster communications equipment.
When the team finished its orientation of the communications vehicles, we worked through a PowerPoint presentation on communications failure possibilities at the local level.  What happens if the Emergency Operations Center, currently housed in a two story brick building built in 1921, collapses?  What's the back up plan when the backup generators fail?  How does Centralia ARES best use its communications equipment to meet the mission?  Finally, is it possible for us as a team to fail?  Lack of training, lack of preparation and inability to think outside of the box after a disaster can easily make any amateur radio operator part of the problem and not part of the solution.
We were happy to welcome new team member Jay Boiselle, KI7WLI, and prospective team member John Villarreal, KI7YEF, to the training last evening.  Hopefully we will hear more from them in the near future.