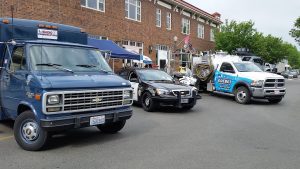 Saturday, May 19th was a busy day for the Centralia Police Department as they opened the doors to their downtown facility and invited the public to come on in.  Centralia Amateur Radio Emergency Service was also asked to be a part of the event so at 9am Saturday Comm I, the large Centralia Police Department and Riverside Fire Authority command van, and our own ARES Comm III rolled out of the Cooks Hill Fire Station and headed for the event location.  On display throughout the day were a Riverside Fire engine and safety display trailer, a large former military armored vehicle now used by the police department, a patrol car, police motorcycle, and the two communication vehicles.  After a little time jockeying vehicles around in the narrow confines of Maple Street, everything finally found its own display location.  Chuck, W5KAV, Skip, K1HEK, Frank, KF7RSI, Paul, KE7PCB, John, AD6KT, Bill, N7GWK, and Kevin, KI7KKS all helped with the vehicle display, giving tours of the vehicles  to adults and kids as they arrived.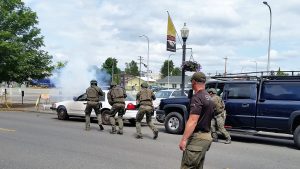 Centralia ARES' second assignment, handled by Lyle, KB7PI and Bob, KD7OWN, was to oversee tours of the Emergency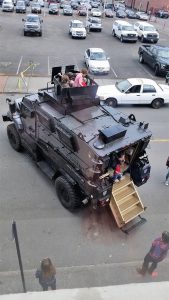 Operations Center and talk about its purpose to groups as they worked their way through the building.  With the amateur radio station located in the Emergency Operations Center, it was the perfect venue to talk about emergency communications.
Throughout the day, those attending the event were treated to hotdogs and other goodies while they watched a K-9 demonstration by Centralia Police Officer Ruben Ramirez along with his amazingly talented dog Pax, and an up close and realistic SWAT take down and arrest involving a very loud diversionary device, better known as a "Flash Bang".
Thanks to everyone who participated in the open house event.  A great day to share with the Centralia Police Department and a fun day for Amateur Radio Emergency Service team members.