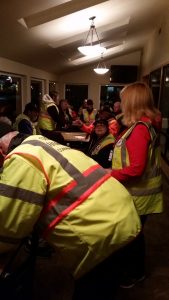 It was hovering around the freezing level last evening when the Centralia ARES team deployed to the Mt. View Baptist Church for our training exercise.  Team member Pastor Bill Knepper graciously opened his church and allowed the team to tour the entire facility testing their ability to evaluate a potential site as an emergency disaster shelter if necessary.  The team had 40 minutes to look for things like kitchen facilities, showers, and space for up to fifty shelter clients.  When we came together once again, each team member gave his or her evaluation.
Next, we moved on to the necessity of setting up an emergency communications system in order to contact the Centralia Emergency Operations Center (EOC).  This would be necessary to let them know the shelter was up and running and to request resources.  Tests within the facility showed  our repeater could be tripped with a simple HT in most rooms.  We worked out where our Communications Trailer (Comm III) could be parked that would allow a simple run of coax into the building sand then use our on board, detachable shelter radio inside the facility but still be hooked to a good antenna outside on the trailer.  Finally, decisions were made about where inside the facility we could place the communications system so it wouldn't be too much of a distraction yet would be able to watch the main facility entrance.
After Mt. View Baptist Church, we moved on to the Immanuel Lutheran Church run by Pastor Jim Pace who is also an ARES team member.  The team conducted the same evaluation and assessment and followed that up with another set of decisions about how and where to place a shelter radio system.
We had some very good discussions about how many cots could be used in one shelter location or another.  While this training is primarily focused on the communications aspect of a potential disaster shelter, we have become involved in all facets of setting up a shelter.  Each team member understands that in our worst case disaster  –  a mega quake for example  –  they may be asked to set up a neighborhood shelter in a local church or other facility and, perhaps more importantly, be tasked with establishing that important communications link between that local shelter and the Centralia EOC.