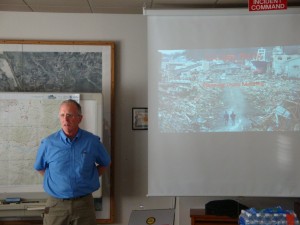 Steve Mansfield, head of the Lewis County Department of Emergency Management, presented his plan for participating in the upcoming Cascadia Rising Earthquake exercise in June.  Discussion about the exercise was punctuated with real life scenarios from past disasters within the county and vivid descriptions about what a real 9.0 Megaquake might be like in our region.
Steve pointed out that our area would be on its own for weeks or perhaps longer after a major earthquake.  The vast majority of resources would go to the Seattle, Tacoma and Vancouver areas where denser populations would make conditions critical.  Food supplies would be gone almost immediately.  Transportation through the county would be almost impossible as demonstrated when Steve showed a large map covered in red dots – each dot representing a bridge that would probably collapse.
Much of Steve's presentation dealt with his plan for Community District Command Centers where local fire stations become resource center, shelters and information hubs.  For much of the upcoming Cascadia Rising exercise, Lewis County Department of Emergency Management will be working on operational communications, public health and medical services, mass care and services, situational assessment, critical transportation and operational coordination.
Centralia ARES will play a support role providing both digital and voice comms to and from the Lewis County EOC during the exercise in June.  Thankfully, this is only an exercise.  As we in the area have learned over the past year, a real 9.0 earthquake would leave the region devastated for a long period of time.  For now, we will continue to hone our communication skills and perform to the best of our ability.
Our thanks to Steve Mansfield for his presentation and his time.