Mike Kytta, Chief of Riverside Fire Authority, addressed our ARES group at Monday's training meeting.  Chief Kytta talked about Fir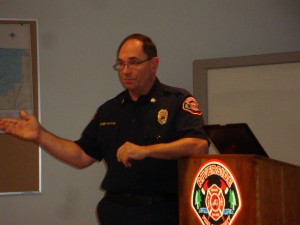 e Dynamics and gave the group a refresher on correctly using a fire extinguisher.  Both were interesting but the videos he included showing the different kinds of fires and how they react to fuel, heat and air were really amazing.
Riverside Fire Authority is one of our "served agencies" and we are thankful to call them our friends.  Chief Kytta and his fire department personnel have done so much for our ARES group.  They provide a safe, accessible location for our repeater, allowed us to put the repeater antenna on their Cooks Hill tower and even provided the ladder truck during training to complete the job of mounting the antenna.  Comm II, our ARES communications van, is currently stored within Station 5 to keep it ready and out of the weather.
All of our Emergency Management partners have been generous and helpful in making Centralia ARES the success it is.
Thanks!