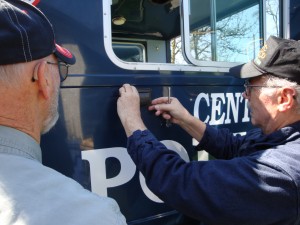 This week saw the completion of one of the last projects left to do on Comm II, Centralia ARES' communication van.  The vehicle currently runs three VHF radios, one UHF radio, one digital radio and one fire/law radio but the team also wanted to be able to set up various HF radio systems for field day or disaster work.  With several different HF antenna systems available for use, we needed a coax pass through installed in the vehicle.  It was decided to install two pass through adapters thereby covering all anticipated needs.
On a sunny morning with the help of Bill McGowan, W7FQQ and his shop full of tools, team members Linc (K0ZCO) and Lyle (KB7PI) bravely drilled two holes through the side wall of the van, just above the work table inside.  You know the old adage "measure twice, drill once"?  There is a reason for that saying.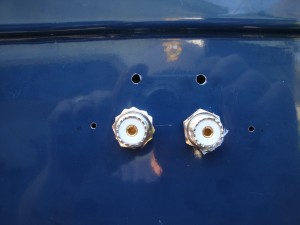 See the two little holes above the pass through adapters?  Yup!  Anyway, being the resourceful hams we are, we discovered the external and internal covers would conceal the "mistake" which we are now claiming was a "planned ventilation system".