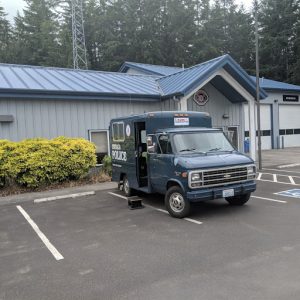 Saturday, June 30th, the 5th Saturday in the month, provided a wonderful opportunity to conduct a short, four hour training exercise, testing equipment and frequencies.  Locally, the team placed Comm II at the Riverside Fire Authority Station #5 on Cooks Hill and Comm III on the overlook on Davis Hill.  Having only recently completed work on the VHF, HF and digital systems in both vans, it was time to see how they worked.  Additionally, we wanted to try and make as many contacts with our Thurston County Interoperability groups as possible as well as the Washington State Emergency Operations Center at Camp Murray.  Working on internal battery power on the vans throughout the morning also allowed us to test the power systems at a level not previously tried.
The team checked into the Washington State Emergency Net (WSEN) at 9am on 80 meters.  We were also able to contact Pierce County on the same band with help from a relay station.  Next we tested 6 meter HF, both on the BawFaw 6 meter repeater and on simplex frequencies.  While the repeater worked well, we were thrilled to find 6 meter simplex worked so well it nearly blew us out of the vans.  Being able to use 6 meters simplex for our emcomm work opens all kinds of possibilities.  This was our first test of the 60 meter frequencies using our HF equipment in the vans.  Both simplex and repeater frequencies worked well as we talked with both Camp Murray and our own team equally well.
Moving to the VHF/UHF systems, we put our new Kenwood dual band radios through every configuration we could think of and they performed flawlessly.  Team members tested the simplex and repeater frequencies through all the known "trouble spots" in the Centralia-Chehalis area on down to the Toledo Airport and all worked well.
Finally, we tested the digital systems using both a Signalink sound card modem and the Kantronics TNC's in the vans.  With a little patience and help, we were able to send and receive messages even with two operators new to the systems.  The 5th Saturday exercises are fun and allow for flexibility without the stress of more carefully planed training.  What a great day!  Thanks to all who participated.  You make amateur radio emergency service fun!