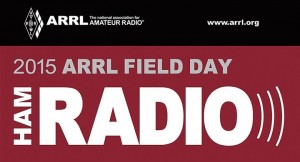 The 2015 ARRL Field Day event is quickly approaching.  Centralia ARES, Lewis County ARES and the Chehalis Valley Amateur Radio Society will, once again, be jointly hosting Field Day at Borst Park in Centralia.  This beautiful site, beside the lake and surrounded by huge antenna poles (some call them trees) is welcoming and brings in the curious and kids alike.
Set up for Field Day will begin at 5pm Friday, June 26th at the park.  We will position vehicles, erect antennas, run coax, prepare the shelter and picnic tables and set up the solar systems and generators.  We can get most of this done, including the 15 meter tower in a couple of hours.
Saturday we go on the air at 11am.  Helpers should arrive earlier to assist with last minute details.  It appears we will be operating as a "5 Foxtrot" event this year.  This means we will have five amateur radio stations operating and will fall within the Emergency Operations Center category.  We will be operating voice, digital and some CW. We may even hunt down an elusive satellite contact.  A hidden transmitter hunt will occur at around 3pm so bring your HT's.  The hidden transmitter's frequency will be 146.565 simplex so program it in now. The much anticipated potluck dinner is scheduled for 5pm.  Thanks to Chehalis Valley Amateur Radio Society for providing the hamburgers and hotdogs.
Operations will continue through the night until 11am Sunday when we will begin to take down all equipment.  If you are responsible for a radio, antenna, coax or a computer please remember to bring them.  Logging computers should have the N3FJP field day logging software installed.
This year we will be using three Centralia Police Department vehicles, the newest being our own Amateur Radio Emergency Services communications van – Comm II.  Come to Field Day and see how this year long communications van project turned out.
Field Day is THE place to come if you are curious about amateur radio, are new to the hobby or have questions about how to set up an amateur radio station or antenna.  There is always someone willing to take the time to visit with you and show you around.  Want to try your hand at operating a radio?  This is the place but even if you are shy and don't want to talk on a radio come and feel the energy when emergency communications takes to the air!  Everyone is welcome.