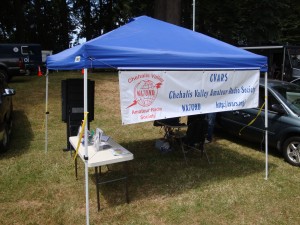 What a great Field Day event this year!  Beautiful warm weather (not normal for Western Washington) with blue skies, gentle winds and lots of fun.  This year's event was set up in Borst Park once again.  This is a great location with lots of trees for antennas and beautiful surroundings.  Statistics for this year are as follows:
418 total QSO contacts: 52 contacts on 80 meters, 93 contacts on 40 meters, 108 contacts on 20 meters, 196 contacts on 15 meters, 4 contacts on 6 meters and 4 contacts on 2 meters.
35 visitors attended Field Day and we had 28 participants who signed the log.
Thanks to everyone from the Chehalis Valley Amateur Radio Society, Lewis County Amateur Radio Emergency Services team and the Centralia ARES team who participated in this year's event.  Good food, good friends and ham radio!  It doesn't get any better than that!