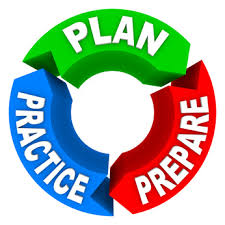 The next scheduled ARES training will occur on Monday, July 3rd.  Training will be held at Riverside Fire Station #2, 1818 Harrison Avenue in the training room located at the rear of the station.  Net check-in will start at 6 pm with training to follow at 6:30 pm.
Training will begin with a tour of the fire department's aid car, its equipment and how their medics are trained.  Next, we will finalize July 4th & Summerfest celebration plans that includes an ARES team presence at both Fort Borst Park and later in the day at the downtown parade.
As our training exercises, based around a simulated oil train derailment and explosion, continue we will spend some additional time on daytime & nighttime helicopter landing zone operations.  Riverside Fire Chief Mike Kytta and Airlift Northwest have provided some updates to our training information and have suggested some additions to our training exercises.  We will discuss those changes and will put them into place later in July.
Finally, we will be spending a little time practicing our net control procedures.  Many of our new members have not experienced net control operations in our local environment.  We'll discuss how they work, how the information flows and practice a few techniques.  We will end the evening  with a debrief at the Dairy Queen.
For this training period, you will need your identification & vests,  field resource manuals and your HT's.  Remember, entrance to the training room at Riverside Fire is at the back of the station.