Our November 5th training was a busy one with some wonderful visitors like Scott, W7SGD from the Washington State Emergency Operations Center and his wife, Anita.  Former team members, Linc and Teresa Haymaker, now living in Colorado, visiting relatives in the area came to spend the evening with us and Riverside Fire Authority Chief Mike Kytta, who stopped by just to thank the team members for their ongoing work to be prepared to support the community, especially as we move into the 2018 flood season.
In the last month or so, the team has been working hard to prepare for whatever role they are assigned during the unpredictable fall and winter months.  Our usual response request is to support the EOC, first responders and the community performing what we call Windshield Surveys.  Our EOC Incident Commanders are always police or fire supervisors who know their community well.  Once stuck in the EOC, without current information about what floodwaters are doing, it is difficult to get that "overall picture" of what needs to be done and to determine priorities.  Our first responders, police and fire, are always busy with calls for service and that is where our volunteers come in.  We have the manpower and time to drive through the community, street by street, and give flood related information to the Incident Commander via the amateur radios in the EOC.  Our Windshield Surveys require that team members assigned observe up to 16 different locations on four waterways that can flood the community.  We can take a close look at these waterways, take photos to send back to the EOC and tell the IC exactly what changes are happening to the river or stream.  Once that is done,  team members turn their attention to the streets, patrolling neighborhood by neighborhood, to determine if flood waters are creating a danger to homeowners, animals or anything else.  Hour by hour, we do it all over again for as long as we are needed.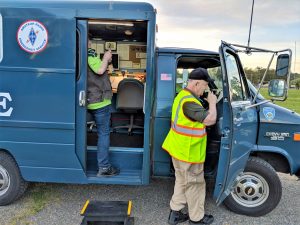 Each flood season, the ARES team tries to improve its response system.  This year, we have added a tracking system called APRSdroid to our repertoire.  This allows us to track our Windshield Survey teams moment by moment, using their cell phones, and put their current track up on the computers in the EOC or in our communications vans.  As they check each river and stream and as they move through the community street by street, the entire EOC can observe their progress.
To help new team members become accustomed to the many river observation sites they need to learn, we've added support pages to their field resource manuals.  These pages describe each location with its name, what emergency response area it is in, its GPS coordinates, general information about the site, cautions if necessary such as "heavy traffic in area" and finally, photographs of the survey site.  The GPS coordinates are important so they can use Google Maps on their cell phones if they wish to obtain driving directions that will take them directly to each site.  We have also added a site to the EOC and communications van's computer that allows photos to be sent in real time showing anything the teams feel might be important to the Incident Commander (IC).
One of the new changes this year is using our communications van(s) in a support role to our Windshield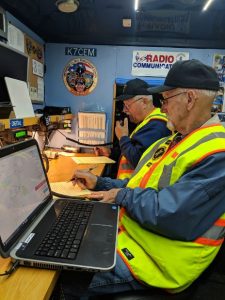 Survey teams.  In the past, the road teams have produced a lot of information that went directly to the radio operators in the EOC but much of that radio traffic was not vital to the EOC.  For example, if a team was advising they were going to take a break to grab lunch, the EOC, as a whole, did not need to hear that information.  This year, one or more communications vans will be placed in a safe location in whichever Emergency Response Division that is experiencing flooding.  The vans, with a team leader and radio operator, will take all the radio traffic from the Windshield Survey teams, filter it, prioritize it and send it on to the EOC on a separate command frequency.  The van is also directly responsible to monitor the Windshield Survey team's safety and location. Finally, during the first part of October, we took everyone on a guided tour to each river and stream's monitoring location.  There, we explained how the flood waters work their way through our community, what kinds of damage may be expected and how to approach each site safely.  Placing the team members at the exact spot where they will be safe observing the rivers and streams during a flood should be helpful.
Chief Kytta reminded us that while some ARES teams train for a specific mission, we train to be an "all hazards" team, capable of responding to any threat to the community and available to support our first responders in whatever role we are asked to do.  Be it wildfire support training in July or flood training in November, each are designed to support Police, Fire and the community.  When the floods come, it is too late to conduct training.  Being prepared to respond is vital for our volunteers.