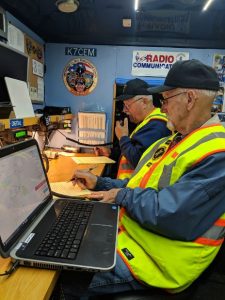 Fall is certainly in the air in beautiful, historic Centralia,  The rains have started and the leaves are turning or have already fallen from some of the trees.  For Centralia Amateur Radio Emergency Service volunteers, this means we are also nearing flood season.  While we don't get many blizzards or hurricanes, we are regularly visited by localized flooding – often massive flooding.
In September, the team trained on EOC operations.  The Emergency Operations Center, located on the 2nd floor of Centralia City Hall, also contains an amateur radio station.  During this training, we talked about the role of ARES during a flood event.  Usually this involves working as the eyes and ears for the Incident Commander conducting street by street community evaluations before and during the flood event.  We also perform real time stream and river monitoring, and photograph what we see for disaster records.  The team has been tasked in the past with monitoring local sandbag stations and we have trained to set up emergency sheltering with communications directly to the EOC.  Time was dedicated to discussing how the team would be contacted and  deployed and what their assignments might be and as usual in the EOC, we tested all amateur radio communication systems.
At our first October training exercise, it was time to show our team members, new and old, how to successfully conduct a windshield survey.  In the rain and in the dark, seven windshield survey teams were deployed into the community.  Two team members deployed and set up Comm II, one of our all purpose communications vehicles.  Comm II becomes a centralized communications hub that takes radio traffic from the windshield survey teams and then filters and directs that information to the EOC or wherever it needs to go.  This was our first time using Comm II in this role but it showed just how capable this vehicle can be with good operators.
In the past few weeks, the ARES team has been testing the APRSdroid tracking system.  With this App, each team member can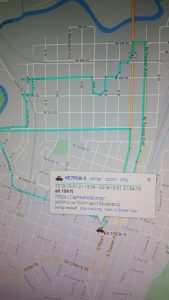 utilize their cell phone to create a moment by moment track of their movements throughout the community as they are doing their windshield surveys.  This track, including their current position, can be monitored with the computer onboard Comm II or even in the Emergency Operations Center.  Not only does this system keep track of each team member for safety purposes, but it is also a great tool for the Incident Commander to see the overall deployment picture of his volunteers.
Yet another piece of this training exercise is our ongoing attempt to trim down and professionalize our amateur radio communications during a deployment.  This is often harder than it looks.  Each team member is encouraged to think carefully about what they need to say before keying up the radio.  They need to understand what information is helpful and what is not needed.  Finally, they must know how to prioritize those messages.
Our volunteers continue to do a great job with a difficult task.  We learn with each exercise just what is required to be a more professional partner to our served agencies.  October will continue to be a busy month with our annual Simulated Emergency Test exercise and some expanded communications practice.  While this month will be hectic, there is no time to waste.  We know the rains will arrive soon enough.  We want to be prepared.