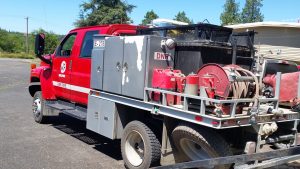 It was in the high 80's and hot today as we participated in helicopter air operations training with both Department of Natural Resources (DNR) and the LifeFlight medical helicopter response team.  During a busy four hours, both organizations demonstrated their equipment and procedures.  DNR ground crews and their bright red trucks were staged at the landing zone first and before long the DNR chopper set down on the landing zone amid flying debris and dust.  Once shut down, we were able to check out the helicopter and all their equipment.  Since some of the DNR ground units hadn't seen a water drop before, the helicopter (one of eight in the state) hooked up a bright orange water bag to a
long tether and loading from the Chehalis River, treated everyone to five or six pinpoint water drops.  We gained a whole new respect for these young DNR crews, all in long sleeve shirts, heavy boots and hardhats in the intense heat.  Even in mid day when the rest of us sought out any shade we could find, the DNR crews sat down in the sun, broke out their lunches and discussed plans to attend a rock concert.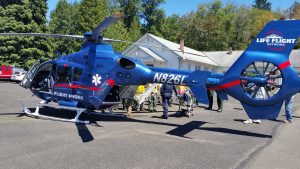 In the early afternoon, the LifeFlight medical helicopter response team, presented an hour long classroom training piece on helicopter landing zone operations.  Before long, we could hear the helicopter approaching and as we went outside to another high intensity dust shower, their bright blue helicopter landed and shut down.  After a tour of the aircraft and a chance to ask questions, the flight crew offered to allow patient loading practice.  While some of us were only interested in the landing and take off procedures that we train for in our ARES group, the DNR crews, who don't generally get to load patients into helicopters, were all over this opportunity taking turns being the patient and then helping with the loading and unloading.
All in all, it was fun and interesting day with the opportunity to learn new procedures and have a close up look at the DNR water drop systems.  Thanks to both DNR and LifeFlight for your training.