Centralia's Summerfest Celebration is always a very busy day for the Amateur Radio Emergency Service team.  The day begins early as we deliver one of our communications vans, Comm II, and the CPD Command van to beautiful Fort Borst Park where we will be a part of the law enforcement vehicle display throughout the morning.  Our team of volunteers will spend the morning walking through the park with an eye out for lost children and possible medical emergencies all monitored by those in Comm II.  While the crowds are usually large, everyone is happy.  Kids line up to walk through our communications van so they can talk on the radio and see all the equipment.  For others, it is having their picture taken on the police motorcycle or in the SWAT armored vehicle.  The kid's fishing pond and the huge display of World War II military vehicles are always popular events.  Even so, the line at the free pancake breakfast is long and a large amount of people will simply spend their day chatting around the food tables.  CPD has participated in Summerfest in Fort Borst Park for nearly 30 years and Centralia ARES has been there as well since our team's inception.
At noon, it is time to switch gears.  The next big event on the 4th of July is the downtown parade.  While most people won't start lining the streets for hours, the behind the scenes work must begin early.  Centralia ARES transfers its communications van and the CPD command van from Fort Borst Park to near the parade start point.  It is time to get equipment in its proper location and all set up. If you're lucky, there will be a few minutes for a quick lunch, then it is briefing time by the CPD officer in charge followed by our own ARES briefing just before deploying our volunteers along the parade route.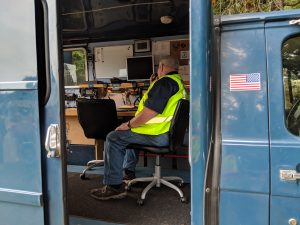 Parades attract adults and children like no other event.  Floats in the parade have, of course, become know for throwing out candy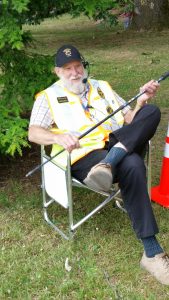 to the crowds and kids have learned to be close to parade vehicles as they pass if they want the candy.  Between those kids  and the large noisy parade entrants, stand our volunteers in their bright yellow vests.  Our job has always been to keep everyone safe and it has not always been an easy or appreciated job.  This year, however, after the City of Centralia changed its parade policy to read that no candy was to be thrown from floats but it would be handed to children who were on the sidewalk, our job as volunteers became easier.  The crowds were still present but there was much less danger of a child getting hurt.  Centralia's parade lasts about an hour and a half as it is somewhat confined by the size of the downtown area.  By 5:30pm, the parade is finally done and we begin the breakdown of equipment.  Within another hour, the vans are back in their garages and we shuffle home tired after a very warm day.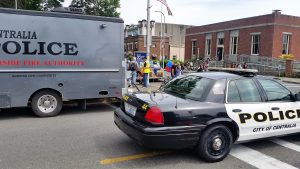 Many citizens are willing to give back to their communities during the July 4th holiday.  Most go unrecognized for the work they do, but each of these volunteers should be recognized for their time and work.  While others are enjoying picnics or time with their families, many volunteers – our ARES team members included – spent their day serving others and their community.  They don't get paid for their time and it is hot, tiring work but many holiday events would not occur without their help.  To all those Amateur Radio Emergency Service volunteers who spent their day helping others be safe, thank you!  You are a great bunch of people!