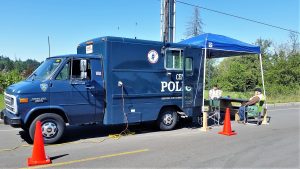 The Lewis County Historical Bike Ride attracts riders from all over Western Washington where they choose to negotiate a 20 mile, 46 mile, 68 mile or 100 mile route that runs through beautiful Lewis County.  Saturday was a great day for a ride with temperatures in the 70's and plenty of sunshine most of the day.
During this event, Centralia Amateur Radio Emergency Services supports the Lewis County ARES team by monitoring the riders as they pass through the most northerly checkpoint, located in Centralia alongside the Chehalis River.  The job is simple.  As riders pass by, we write down their rider numbers, make sure they know where to go next and just take a quick visual to be sure all riders are in good condition.  The numbers are then sent digitally back to "Ride Base" located at the start point in Stan Hedwall Park in Chehalis. By the time riders have reached our checkpoint, most have ridden somewhere between 20 and 50 miles.
Nine Centralia ARES team members worked the checkpoint throughout the day.  Sustained with great Fiddler's coffee and some delicious donuts, we all somehow survived the difficult task of sitting in our folding chairs 90% of the time while meeting and greeting riders the other 10% of the time.  Honestly, I don't know how we do it.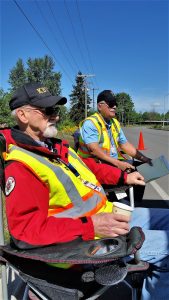 Saturday was a first chance to test several systems on our newest communications van, Comm III.  It was our first test of the Winlink dedicated digital station in the van, and everything worked as it was supposed to do, sending out updated rider numbers every 15 minutes and receiving the proper reply each time.  Our on board battery system worked well, operating all systems on battery power throughout of the day.  Most importantly, our on board, almost high tech, coffee pot performed flawlessly.
Thanks to Loyann, W7LOY; Bill, N7GWK; Frank, KF7RSI; Lyle, KB7PI; Paul, KE7PCB; Chuck, W5KAV; Marvin, N6XML; John, AD6KT and Bob, KD7OWN for a great day.  We'll see you next year!