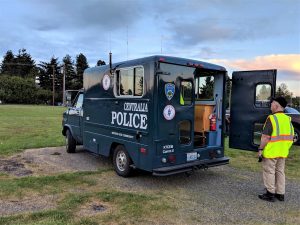 Celebrating the completion of our newest communication van, Comm III, the ARES team conducted a full scale flood disaster field exercise during our May 7th training night.  Centralia's emergency response plan divides the community into four Emergency Response Divisions because, during heavy flood events, each emergency division can and often is cut off from support due to high water across roadways.  Placing a communication van in as many response divisions as possible assures a capable communications hub in those areas.
We began the evening with a short orientation in the Centralia Emergency Operations Center (EOC) followed by a realistic situation report, safety briefing and assignments.  Other team leaders were busy placing our two communications vans being used this evening in response division #3 and #4.  AEC Bill Knepper, N7GWK, opened up our emergency shelter at the Mt. View Baptist Church as well.  Assignments sent team members to Comm II, Comm III or to Shelter #1.  Using the primary repeater, those going to either of the comm vans had to make contact with the van, receiving directions to wherever it was located.  Once on scene, each van and the shelter switched to separate simplex frequencies for operations.  Overseeing it all, the Emergency Operations Center remained active and on the air.
This was an evening to practice comm van operations and windshield survey work which was new to some of our recent team members.  Team members spread out into the smaller neighborhoods looking for windshield survey information which was then relayed back to the comm vans.  The more important items needing additional support were sent on to the EOC.
Plans called for a couple of surprise scenarios as well.  Shelter #1 was notified that the small neighboring community of Galvin was receiving the worst of the localized flooding and to expect four families who were evacuating.  In a related part of the scenario, teams were notified that Riverside Fire Authority was on the scene of a near drowning in the Galvin area and were requesting the ARES team to set up an emergency medical helicopter landing zone for immediate transport to a nearby hospital.  Within minutes, hams were on site of one of our predetermined landing zone sites and were setting up the 100 x 100 foot LZ complete with orange cones and flashing lights.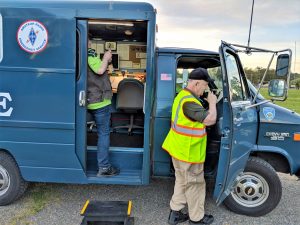 At 8:15pm, we closed the exercise and went to the Mt. View Baptist Church for debriefing.  As the exercise was in the planning stages, we intentionally required the shelter to create a communications system so they could talk to the EOC but how they set up that system was up to them.  Those working the shelter arrived with only their HT's (not allowed to use any mobile in their vehicles as the comms system had to be set up inside the shelter).  While the HT's worked on the simplex frequencies, they were weak. No problem!  Micah, KF7GKZ, came prepared with a complete 50 watt radio and power supply in his go-bag.  Within minutes, they  had solid communications into the EOC.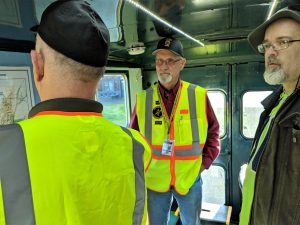 As always, we discovered some things that we could do better. For example, halfway through the event, we remembered we had headphones for the EOC which made the confusion less of a problem.  We need to adjust how we use the simplex frequencies to avoid confusion amid heavy radio traffic.  All in all, however, this exercise was another tremendous success.  While training nights sometimes require sitting in a classroom, by far our team enjoys a fast paced field exercise more.
This exercise brought a visitor as well.  Jay Boiselle, KI7WLI, stopped by to see what was going on.  A recent graduate of the Centralia Citizens Academy, Jay had heard our ARES presentation as part of the academy, upgraded his license, and came to play.  Hopefully, we will be able to talk him into becoming the newest Centralia ARES team member.