It has truly been a sprint to the finish this week to get our newest ARES Comm Van ready for the Seattle Communications Academy display but we made it.  Thanks to the amazing help from several dedicated volunteers, we completed all items on the punch list and did a final cleaning and fueling around 3:30 this afternoon.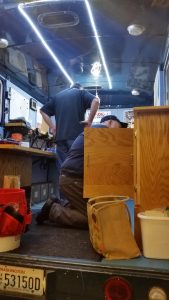 This week, we completed final wiring on the battery bank and hookups to the radio systems, installed the final cabinet, flashlight  and first aid kit holders, installed the mats, wired the driver's compartment radio, installed the CB radio antenna and scanner, fueled and checked both vehicles, ran a test of the 8′ x 8′ pop up tent and performed a final cleaning – all that with about a third of the crew missing due to bad backs or commitments.  We are, however, ready to head out Saturday morning (at 6:30am) to the Seattle Communication Academy where our comm van twins will be on display all day.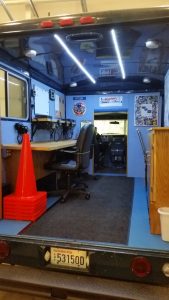 Our travel crew will be Lyle, KB7PI; Paul, KE7PCB, John, AD6KT; and Bob, KD7OWN but we hope to see many of our team at the comm academy this year and many have offered to help with set up and display time.  If you are planning on attending the 2018 Seattle Communications Academy, stop by our van display and say hello.  We are proud of our vans and can hardly wait to show them off.
See you there!