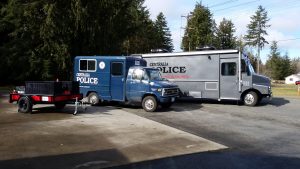 Comm I, the Centralia ARES team's first mobile communications van, is a large all-purpose van owned by the Centralia Police Department.  The ARES team installed a VHF amateur radio into the van just after the team was formed in 2008.  While it serves its purpose, it is not really "our" van.  We do transport the van for the PD and set it up making it ready to operate where needed, but we had very little say in how the communications equipment was installed.  Comm II was a different story.  This great little 19′ ex-military box van came to us as a project from the PD.  They obtained it from the military and in a previous life, it was used as a flight line tool van.  We spent almost a year transforming it into a mobile communications vehicle that met our needs perfectly.
Getting ahead of ourselves, Comm IV was the next project we built.  It was a small open 5×8 foot utility trailer and using this as a starting point, we created a communications trailer that could be towed behind any comm van.  Designed as a communications system that could be set up at any disaster shelter to provide VHF, UHF, HF and Fire/Law comms, it can go anywhere.  Metal boxes protect the electronics and the system can be run off generator, battery, solar or shore power.  A large 10×10 tent protects the trailer and operators in bad weather.
Finally, in the summer of 2017, Comm III was handed to us by the police department.  A twin to Comm II, we have been working on the van through the fall and winter, duplicating our first van's capabilities.  The floors, walls and bulkheads are done and some cabinetry has started to show up for installation.  This week, the electrical system was installed with some help from Dan Olmsted, our favorite "non ham" volunteer worker bee.  Things are moving into high gear now.  Thanks to an amazing donation by TwinStar Credit Union, we can purchase all the supplies we need and really get to work.
Last year, Centralia ARES displayed our Comm II van and communications trailer at the Seattle Communications Academy.  The 2018 academy is about six weeks away and we hope to be back this year with both vans.  If you're attending this year's communications academy in April, come see us and say hello!