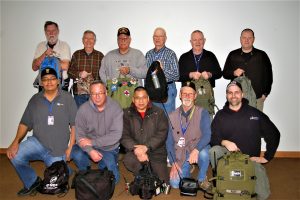 Eleven team members entered the Short Deployment Go-Bag Challenge last Monday.  Each go-bag had to meet specific requirements, weighing no more than ten pounds including at least one HT and had to contain the necessary items for a 2-6 hour flood deployment.  Most entrants used a small backpack as their starting point with a couple using a waist pack.  One person entered the challenge with two ideas – a vest and an old camera bag – both great ideas.
Each contestant had to weigh his bag, then empty it onto a table and explain each piece included in the go-bag.  When everyone had a chance to explain their bag, the entire team took a few minutes to look over each entry and ask questions.  After a silent vote, Skip Kingman, K1HEK came away with the win and the $25 prize.  Total weight:  eight and one half pounds!
Photos were taken and Skip's photo will be attached to the QST article.  I'd like to compliment all the team members who took the time to enter the contest.  There were some great ideas and several have said they went home and immediately changed the contents of their own go-bag based on what they viewed this evening.  Nice job everyone!