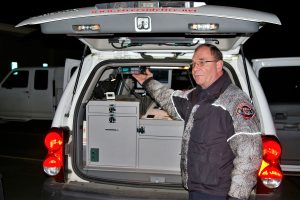 Guest speaker for our February 18th ARES training was Riverside Fire Chief Mike Kytta who spoke to the team about the importance of proper communications during emergency responses and deployments.  Chief Kytta, who leads one of our served agencies, began his career as a 911 dispatcher before moving on to the fire department that later joined forces with Centralia's Fire Department to become the Riverside Fire Authority.
This presentation was a planned discussion scheduled to follow our PowerPoint presentation on the DuPont Amatrak train derailment where it crossed Interstate 5 near the city of DuPont.  During that presentation, we broke down the emergency response to this disaster moment by moment and discussed how vital proper communications is to the Incident Command System.
Chief Kytta also was generous enough to take us on a tour of his Fire Command Vehicle.  Much thought went into this command and control vehicle and it turned out beautifully.  Thank you Chief Kytta for the exceptional job you do working with our volunteers and of course, thank you for the service to our community.